Quand le petit bossu
When the Little Hunchback
Chanson enfantine
Children's Song
Quand le petit bossu va chercher de l'eau,
Il n'y va jamais sans ses deux seaux.
Il s'en va vers la rivière
Tout en faisant ses petites manières.
"Donnez-moi de l'eau,
Donnez-moi de l'eau,
Donnez-moi de l'eau dans mes deux seaux."

Refrain
Non, non, non, on n'a jamais vu
Rien d'aussi charmant que le petit bossu.*

Quand le petit bossu va chercher du lait,
Il n'y va jamais sans son pot au lait.
Il s'en va chez la crémière
Tout en faisant ses petites manières.
"Donnez-moi du lait,
Donnez-moi du lait,
Donnez-moi du lait dans mon pot au lait."

(Refrain)

Quand le petit bossu va chercher du pain,
Il n'y va jamais sans son sac à pain.
Il s'en va chez la boulangère,
Tout en faisant ses petites manières,
"Donnez-moi du pain,
Donnez-moi du pain,
Donnez-moi du pain dans mon sac à pain."

(Refrain)
When the little hunchback goes to fetch water,
He never goes there without his two buckets.
He goes down to the river
While putting on airs.
"Give me water,
Give me water,
Give me water in my two buckets."

Chorus
No, no, no, nothing was ever seen
As charming as the little hunchback.

When the little hunchback goes to fetch milk
He never goes there without his milk can.
He goes to the dairywoman
While putting on airs.
"Give me milk,
Give me milk,
Give me milk in my milk can."

(Chorus)

When the little hunchback goes to fetch bread,
He never goes there without his bread bag.
He goes to the baker's
While putting on airs.
"Give me bread,
Give me bread,
Give me bread in my bread bag."

(Chorus)
Notes
* variant
Non, non, non, on n'a jamais vu / Un petit bossu si résolu. (No, no, no, one has never seen / such a resolute little hunchback)

Some variants can be found with minors differences and/or additional verses.

Sheet Music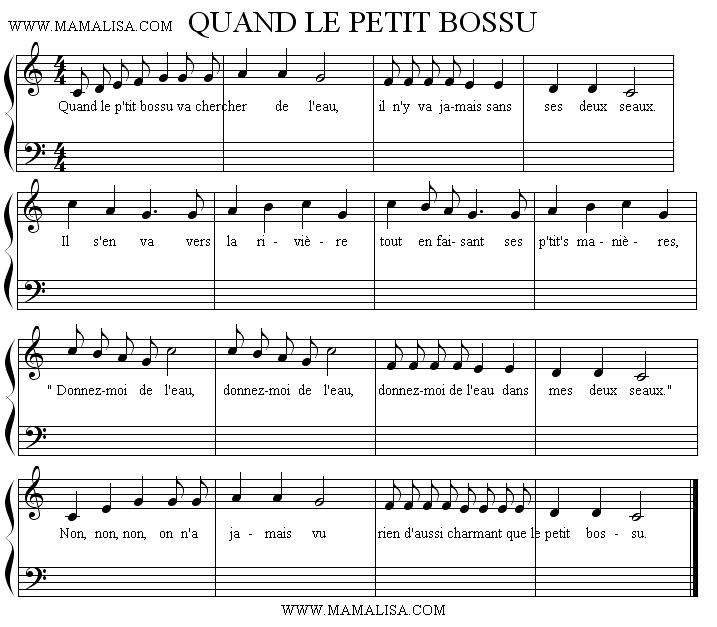 Thanks and Acknowledgements
Many thanks to Monique Palomares for contributing and translating this song.
Merci beaucoup!