"This is a folksong from Nigeria. Children from the Yoruba speaking part of the country sing this song while playing together outdoors. They sing it, sometimes holding hands or sitting down under the shade of a tree in the hot sun…" -Belinda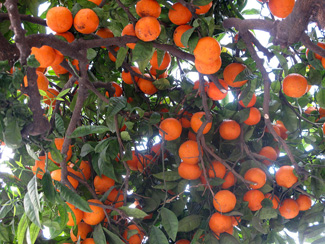 L'abe igi orombo
Under the Orange Tree
Children's Song
Children's Song
L'abe igi orombo
N'ibe l'agbe nsere wa
Inu wa dun, ara wa ya
L'abe igi orombo

Orombo, orombo
Orombo, orombo.
Under the orange tree
Where we play our games
We are happy, we are excited
Under the orange tree...

Orange, orange
Orange, orange.

Many thanks to Belinda (Yinka) Adisa, from the Yoruba Roots Language School, for contributing and translating this song and for the recording. Thanks to Monique Palomares for the midi and score.

The girls in the video below learnt this song here on Mama Lisa's World and added their own harmony to go with the melody.
Sheet Music