This song, Shojoji is like a Japanese Mother Goose nursery rhyme song based on a Japanese fairy tale.

Masae wrote from Japan: "In Japan, we believe (especially when we are small) that the raccoon dog plays the belly drum with their front legs while standing on their hind legs. Shoujou-ji Temple is famous for the tradition of the raccoon dog belly drum. However, this song is not a traditional one."

This is the original version of this song by Noguchi Ujo (1882 – 1945).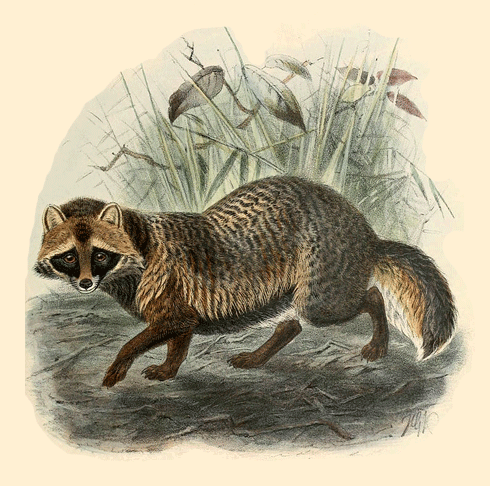 證、證、證城寺
(Shojoji no Tanuki)
Raccoon Dog Drumming at Shojoji Temple (Original Version)
Children's Song
Children's Song
證、證、證城寺
證城寺の庭は
ツ、ツ、月夜だ
皆出て来い来い来い
己等の友達ァ
ぽんぽこぽんのぽん

負けるな、負けるな
和尚さんに負けるな
来い、来い、来い来い来い来い
皆出て、来い来い来い

證、證、證城寺
證城寺の萩は
ツ、ツ、月夜に 花盛り
己等は浮かれて
ぽんぽこぽんのぽん
At Shojoji Temple
In the garden
There is moonlight tonight
Come on everybody,
My friends, play belly drums
Pom poko pom no pom.

Don't loose your dancing bout
Against the monk
Come here, come here,
Everybody come here to dance.

At Shojoji Temple.
Its Japanese bush clover
Is fully bloomed under the moonlight
We are crazy to dance
And play the belly drum
Pom poko pom no pom.
Notes
Transliteration

Sho sho Shojoji
Shojoji no niwa wa
Tsu tsu tsukiyo da
Minna dete koi koi koi
Oira no tomodacha
Pom poko pom no pom.

Makeruna makeruna
Osho-san ni makeruna
Koi koi koi, Koi koi koi
Minna dete koi koi koi

Sho sho Shojoji
Shojoji no hagi wa
Tsu tsu tsukiyo ni hana zakari
Oira wa ukarete
Pom poko pom no pom.

*****

Sadao Mazuka wrote about this song and translation:

"The English translation from Japanese lyrics will be all-right for the meanings on your web. But if some (old) Japanese people would go to sing it in English, they will remember the version as follows.

Come Come Everybody

(From the book of "Come come, English for Everybody":
Written by Tadaichi Hirakawa: And added 2nd paragraph by Sadao Mazuka)

Come come, everybody.
How do you do, and how are you?
Won't you have some candy,
One and two and three, four, five?
Let's all sing a happy song,
Sing tra-la la la la.

Won't you talk and sing with us
Make friends in the world?
Come come, come
Come come, come
And come dancing tra la la.

Good-bye! everybody.
Good night, until tomorrow,
Monday, Tuesday, Wednesday,
Thursday, Friday, Saturday, Sunday.
Let's all come and meet again,
Singing tra la la.

This was the theme song of NHK Radio English Conversation Program by "Hirakawa, Tadaichi 平川唯一 ( 1902 – 1993 )". The program was broadcasted from 1946 to 1951. I watched the program with fervor. The song of "Come come every body" was my start point of learning English. After the world war 2nd, many Japanese people watched the program I suppose.

So I recommend to posting the lyrics as the other version of the music on your web, but not replacing."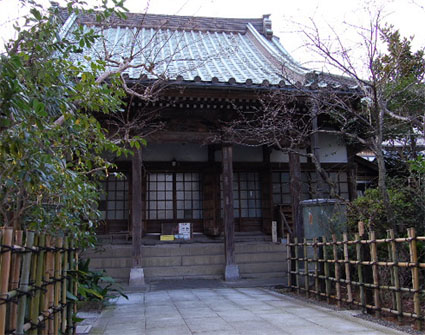 Comments
*****
If you'd like to read more about Shojo-ji, click the link to go to a post about it on Mama Lisa's World Blog.


Thanks and Acknowledgements
Thanks to Masae Morishima for contributing and helping to translate this song! Thanks to Sadao Mazuki for proofing this song for us, for the midi tune and the alternate version in English with commentary.

Photo: Wikitravel
Arigato gozaimasu!