Carrez-vous mignonne
Stand Proud, My Pretty
Chanson enfantine
Children's Song
Carrez-vous mignonne, carrez-vous,
Faites la claquette, la claquette,
Faites la claquette comme nous.
Stand proud, my pretty, do stand proud,
Make a clapping sound, a clapping sound,
Make a clapping sound just like us.

Game Instructions
Edit' explains: "I have the children play a rhythm game to this song: we find all the ways to do a clapping sound using different parts of the body, then using small percussion instruments…

The children must spot the moment to sing in unison ('carrez-vous, mignonne') and the moment when they must make a beat or clap ('faites la claquette la claquette… comme nous'). A leader can be chosen during the game and s/he must show the group how to make the clapping sound.

Many thanks to Edit' Dupont for contributing and singing this song for Mama Lisa's World.
Sheet Music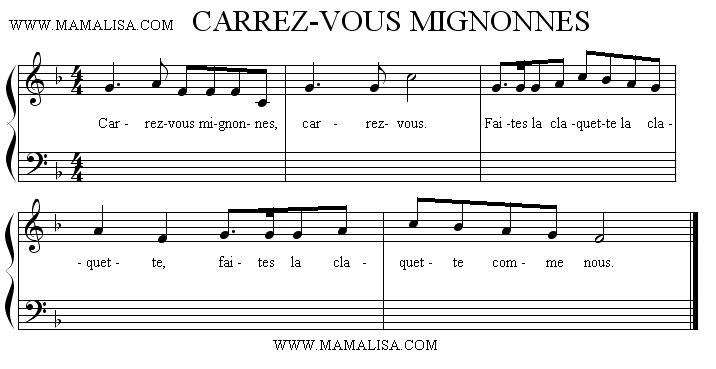 Thanks and Acknowledgements
Translated by Monique and Lisa.
Merci beaucoup!