"Nabe Nabe Sokonuke" is a song that's easy to learn because it's short. It has a fun game that goes with it.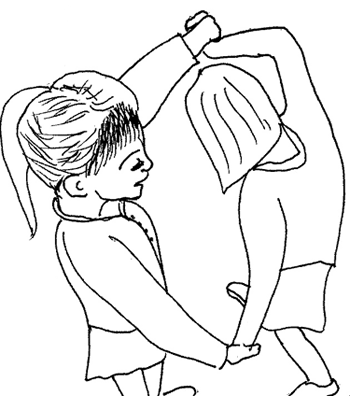 なべなべそこぬけ
Bottomless Pan, Pan
Pan, Pan,
Bottomless,
If the bottom is falling out,
Let's go home.
Notes
Pronunciation:

Nabe, Nabe Sokonuke

Nabe, nabe,
Sokonuke
Sokoganuketara
Kaerimasho

"I remember I played the 'Nabe Nabe Sokonuke' hand rhyme when I was a kid." -Ayako from Japan
Game Instructions
Stand across from your partner and hold hands during the whole game.

1. While chanting this song, swing hands back and forth with your partner. On the last line, "Kaerimasho" (let's go home), turn around so that your partner and you are standing back to back.

2. Now you're back-to-back and still holding hands with your partner. Repeat the song, while swinging hands back and forth. Then on the last line, swing around and face your partner.

You can keep repeating these steps, going faster each time.


Sheet Music

Thanks and Acknowledgements
Many thanks to Erin Yuki Violet Taylor for contributing this song and for the instructions to play the game. Many thanks also to Ayako Egawa for translating it. Thanks to Monique Palomares for the illustration.
Arigato gozaimasu!