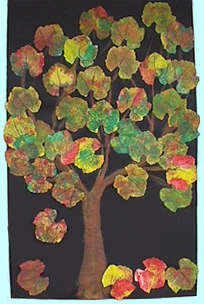 Comptine des couleurs d'automne
Colors of Autumn
Je connais un arbre
Qui est dénudé
Car pendant l'automne
Les feuilles sont tombées.

Elles devenaient jaunes
Brunes et orangées
Vertes, rouge-bordeaux
Et même dorées.
I know a tree
It's bare
For in the autumn
The leaves fell down.

They were turning yellow,
Brown and orange
Green, burgundy red
And even golden.
Notes
This song is sung to the tune of the French song "J'ai un gros nez rouge".

Many thanks to Edit' Dupont for graciously singing this song for Mama Lisa's World two times (we re-recorded it)!
Thanks and Acknowledgements
Many thanks to Edit' Dupont for contributing this song and to Tatie Monique's first grade class of 2005/2006 for the wonderful collective painting. Thanks also to Monique Palomares for the English translation.
Merci beaucoup!