"When I was a little kid I learned this version from my Granma…" -Eduardo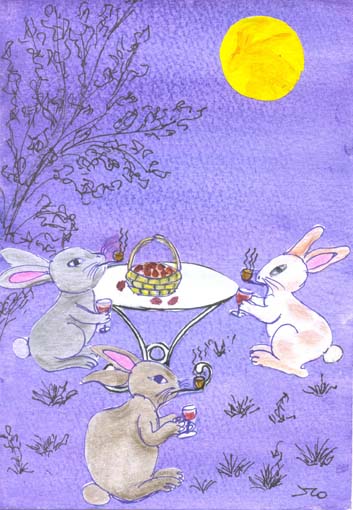 Au clair de la lune trois petits lapins
Under the Moonlight, Three Little Rabbits
Chanson enfantine
Children's Song
Au clair de la lune
Trois petits lapins
Qui mangeaient des prunes
Comm' trois p'tits coquins
La pipe à la bouche
Le verre à la main
En disant "Mesdames,
Versez-nous du vin.
Tout plein,
Jusqu'à demain
Matin."
Under the moonlight
Three little rabbits
Who were eating prunes
Like three little scamps,
A pipe in the mouth
A glass in hand,
Saying, "Ladies,
Pour us some wine,
A lot,
Until tomorrow
Morning."

Many thanks to Monique Palomares for the second recording!
Thanks and Acknowledgements
Many thanks to Eduardo de Lima Pereira for contributing this rhyme! Thanks to Monique Palomares for the last 3 lines and the great illustration!
Merci beaucoup!