Oh Stork and Night Heron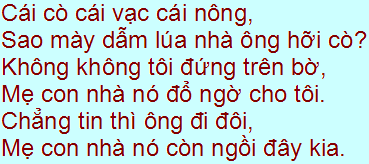 "Oh stork and night heron,
Why did you step on my rice plants?"
Asks the farmer.
The stork and night heron reply,
"No, no, we did not. We were standing on the path,
but other people accused us of doing that.
They are still sitting there,
if you do not believe us, you can make a bet."
Computerized Text
(We apologize if this doesn't display properly on your screen):
Cái cò cái vạc cái nông
Cái cò cái vạc cái nông,
Sao mày dẫm lúa nhà ông hỡi cò?
Không không tôi đứng trên bờ,
Mẹ con nhà nó đổ ngờ cho tôi.
Chẳng tin thì ông đi đôi,
Mẹ con nhà nó còn ngồi đây kia.


Thanks and Acknowledgements
Many thanks to Luu Thuy for contributing and translating this song.
Cám ón!