This less scary version of this well-known lullaby is from Denslow's Mother Goose. The book was published in 1901 in New York and was illustrated by Denslow. I believe Denslow made it less scary for his book since he did the same with other rhymes and I haven't been able to find this version anywhere else.

One interesting point to note is that Denslow made the mother and baby Native Americans in his illustrations for this selection. One theory is that this song was created by a pilgrim boy who sailed to America on the Mayflower. There he saw cradles made out of birchbark hanging from the trees. (That's how some of the Native Americans made them in those days.) The boy then wrote down this song.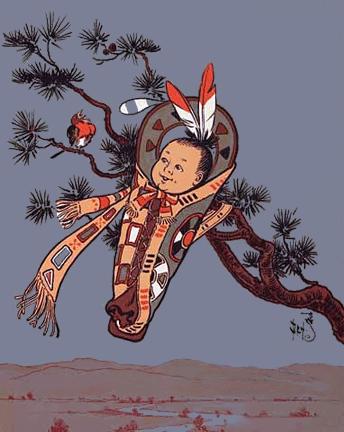 Hush-a-bye, Baby, On the Tree Top (Less Scary Version)
Hush-a-bye, baby, on the tree top,
When the wind blows the cradle will rock;
When the bough bends it never can fall,
Safe is the baby, bough, cradle and all.

Thanks and Acknowledgements
Illustrations by W.W. Denslow with a little graphic editing by Mama Lisa.