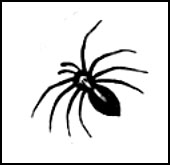 Sur le plancher une araignée
A Spider on the Floor
Chanson mimée
Action Song
Sur le plancher
Une araignée
Se tricotait des bottes
Dans un flacon
Un limaçon
Enfilait sa culotte
Je vois dans le ciel
Une mouche à miel
Pinçant sa guitare
Les rats tout confus
Sonnaient l'angélus
Au son de la fanfare.
On the floor,
a spider
was knitting herself some boots.
In a bottle,
a snail
was pulling up its pants*.
In the sky, I see
a bee
plucking its guitar.
The rats, all confused,
were ringing the prayer bells**
to the sound of a brass band.
Notes
*"Culotte" meaning "trousers, pants or shorter breeches" is no longer in use. Nowadays, it only means girls' and women's underwear, which makes the children giggle.

**Literally "Angelus" - which is a prayer said at morning, noon and night by Roman Catholics. A bell was traditionally rung at 6 am, noon and 6 pm to remind people to say this prayer. The bell rung was also called the "Angelus".
Game Instructions
Each line is mimed.


Sheet Music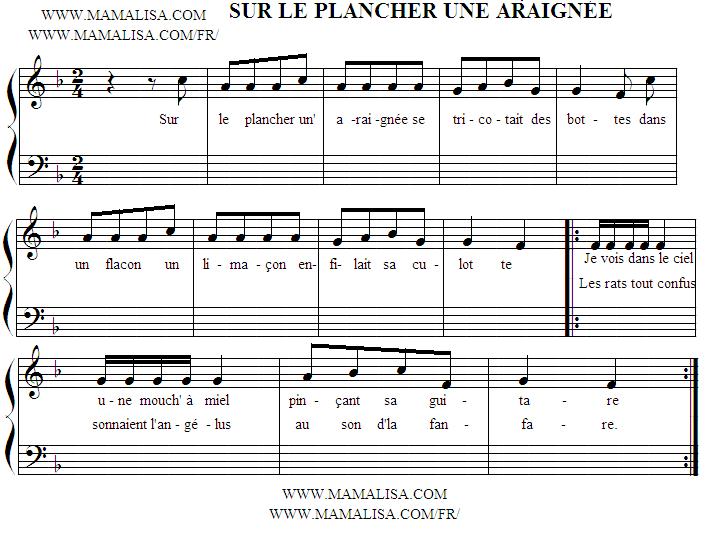 Thanks and Acknowledgements
Many thanks to Monique Palomares for contributing this rhyme and for creating the midi music. Translation by Monique and Lisa.
Merci beaucoup!