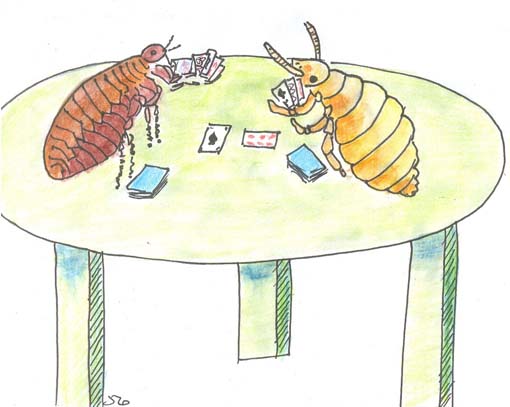 Une puce, un pou
A Flea, a Louse
Chanson enfantine
Children's Song
Une puce, un pou
Assis sur un tabouret
Jouaient aux cartes
La puce perdait.
La puce en colère
Attrapa le pou pou pou
Le jeta par terre
Lui torda* le cou cou cou.
Madame la puce
Qu'avez-vous fait là, là, là ?
J'ai commis un crime
Un assassinat nat nat.
Vous serez jugée
Par une araignée
Et mise en prison
Par un hérisson
Et pendue
Par une tortue.
A flea, a louse,
On a stool were sitting,
They were playing cards,
The flea was losing.
The flea went out of its mind,
Caught the louse, louse, louse,
Threw it on the ground
And twisted its neck, neck, neck.
Mistress Flea,
What did you do there, there, there?
I committed a crime,
A murder –der –der.
You'll be judged
By a spider
And sent to jail
By a hedgehog
And hung
By a turtle**
Notes
*The correct form for "torda" is "tordit".
**"Tortue" can mean turtle or tortoise.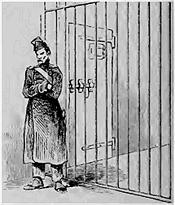 Many thanks to some girls for singing this song for us!
Thanks and Acknowledgements
Thanks to Monique Palomares for translating this song for us and for the wonderful illustration!
Merci beaucoup!