Be Quiet, Be Quiet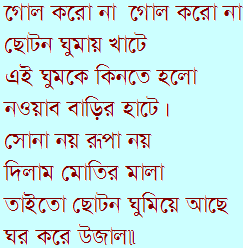 Be quiet, be quiet,
My little boy is sleeping.
This sleep was bought at the market
Near the king's palace.
Not gold, not silver,
I gave him only a pearl necklace
That's why he is sleeping so peacefully
Making the room so bright.
Notes
Chaiti Basu said the name of this rhyme is pronounced "Gol koro na".

I believe the video is for this rhyme (can anyone confirm this?). Here's the pronunciation they give for the video:

"Gol koro na gol korona soton ghumay khate".

Thanks and Acknowledgements
Thanks to Sabikunnahar Ripa for contributing this rhyme and to Chaiti Basu for the English translation.
Dhonnobad!