Marion s'y promène
Marion Is Strolling
Chanson enfantine
Traditional Song
Marion s'y promène le long de son jardin,
Le long de son jardin sur les bords de la France
Le long de son jardin sur les bords de l'eau.

Aperçoit une barque de trente matelots,
De trente matelots sur les bords de la France,
De trente matelots sur les bords de l'eau.

Le plus jeune des trente chantait une chanson…,

La chanson que tu chantes, je voudrais la savoir,

Montez dedans ma barque, je vous l'apprend-e-rai,

Ont fait cent lieues de barque sans rire et sans parler

Après cent lieues de course, la belle s' mit à pleurer

Qu'avez-vous donc la belle, qu'a vous tant à pleurer ?

J'entends, j'entends ma mère, m'appeler pour coucher,

Ne pleurez plus la belle, chez nous, vous coucherez,

Quand elle fut dans la chambre, son lacet a noué,

Mon épée sur la table, belle, pourra le couper,

La belle a pris l'épée, au coeur se l'est plongée

La prend dans sa main blanche, dans la mer l'a jetée.
Marion is strolling along her garden fair
Along her garden fair on the shores of France
Along her garden fair by the waterside.

She notices a boat with thirty mates inside
With thirty mates inside on the shores of France
With thirty mates inside by the waterside.

The youngest of those thirty was a-singing a song…,

The song you are a-singing, this I would want to know,

Do climb into my boat, I will teach it to you,

Sailed a hundred miles by boat without laugh or speech,

After sailing one hundred miles, the girl started to weep,

What's happening to you, pretty, why are you weeping so?

I'm hearing, I'm hearing my mother who's calling me to sleep,

Don't weep anymore my pretty, in our house you will sleep,

When she was in the bedroom, her laces she did tie,

My sword upon the table, girl, can cut pretty well,

The girl took hold of the sword, and plunged it in her heart,

She took it in her white hand, and threw it in the sea.
Notes
Monique said, "I tried to make it singable"
Comments
There are different versions of this song "Isabeau se promène" "La belle se promène"… In many versions of this type of song, the girl is weeping because she lost her "advantage" (virginity) and the poor guy dives into the water to try to find it and gets drowned because as the song goes "no lost advantage is ever retrieved".

Sheet Music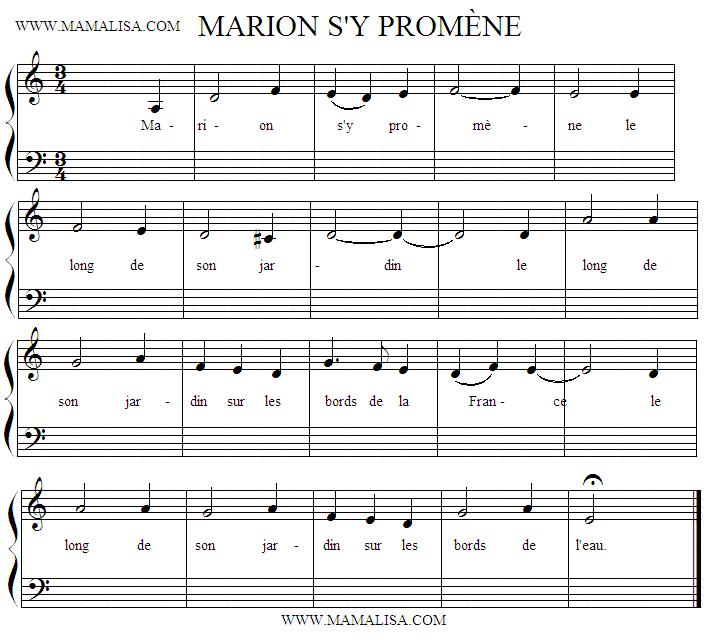 Thanks and Acknowledgements
Many thanks to Yves Masson for contributing and to Monique Palomares for translating this song.
Merci beaucoup