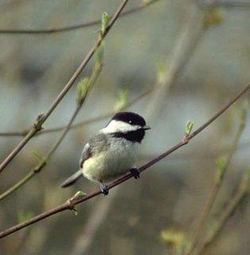 Ճտպտան մի աջխույժ ծիտիկ
A Twittering Lively Birdie
Children's Song
Children's Song
Ճտպտան մի աջխույժ ծիտիկ
Թռավ գնաց առվի եզրիկ,
Կերավ կուտիկ,
Խմեց ջրիկ,
Եկավ մտավ որդուս ծոցիկ :
Այ ճտպտա՜ն,
Այ գի՜ժ ծիտիկ,
Փախիր գնա որդուս ծոցից.
A twittering lively birdie
Flew to the bank of the brook,
He ate some seeds,
He drank water,
Then came and entered my son's bosom.
Oh, you twittering
Crazy birdie,
Fly away from my sonny's bosom!
Notes
Transliteration:

chtptan mi ajkhuyzh tsitik
t'rrav gnats' arrvi yezrik,
kerav kutik,
khmets' jrik,
yekav mtav vordus tsots'ik.
ay chtptan!
ay gizh tsitik!
p'akhir gna vordus tsots'its'.
Thanks and Acknowledgements
Many thanks to Yuri Sahakyan and Anahit Darbinyan for contributing this song and also to Anahit Darbinyan for translating it.
Shat shnorhakal em !

Շատ շնորհակալ եմ!