February 20th, 2013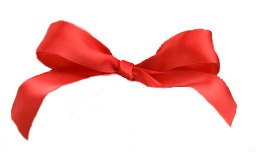 When my son was born, my husband's grandmother asked if she could tie a red ribbon to the bottom of his crib.  This was to ward off the "evil eye" and keep away bad luck.
Some people wear a red string or bracelet on their left hand to ward off the "evil eye" too.  The red bracelet is called a roite bindele in Yiddish,  The idea of a red ribbon warding off evil comes from old Jewish folklore and is associated with Judaism's Kabbalah. The Kabbalah is a mystical doctrine, not religious in nature. 
The "evil eye" in Judaism is connected to other people's envy having the potential to cause evil.  Where newborns are concerned, there seems to be a connection with the mythological figure of Lilith.  In some stories, Lilith was Adam's first wife (before Eve).  She became known as a demonic woman who was blamed for the deaths of infants. She's also known as a baby-stealer.  Talismans are worn to ward off her "evil eye".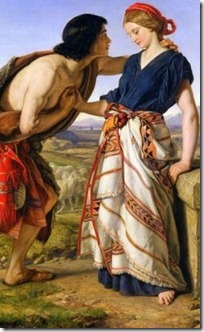 The tradition of using a red string to ward off evil is associated with Rachel, the wife of Jacob in the Bible.  Rachel is considered to be the "eternal mother" who watches over children. 
There is a ritual that is still performed at Rachel's Tomb.  It involves wrapping a red string around her tombstone seven times while a Rabbi recites a prayer. 
People wear a piece of the string as a charm to ward off evil and to protect the person wearing it from danger.
Please feel free to share any traditions you know about talismans to ward off evil and to protect babies in the comments below.
-Mama Lisa
Image: Rachel and Jacob by William Dyce (1806–1864)
This artilce was posted on Wednesday, February 20th, 2013 at 2:17 pm and is filed under Countries & Cultures, Customs and Traditions, Customs for Newborn Babies, Folk Lore, Good Luck, Good Luck Charms, Good Luck Colors, Israel, Languages, Parenting, Red String, Roite Bindele, Superstitions, USA, Yiddish. You can follow any responses to this entry through the RSS 2.0 feed. You can leave a response, or trackback from your own site.
2 Responses to "Tying a Red Ribbon on a Baby's Crib for Good Luck"
Mary Grace Rempillo Says:
March 16th, 2013 at 10:35 am

Here in Philippines (not sure if everywhere in Philippines though) we also have that kind of practice. We even have a red "mini-cushion"-like that is pinned on the baby's dress alongside the red bracelet. I used to pin that on my son's dress but since I always forget to remove it, I just don't pin it anymore but I pray for my son's health and safety instead.
Thanks for this article!

Lisa Says:
March 22nd, 2013 at 2:23 pm

That's interesting Mary Grace! Thanks for sharing.
Leave a Reply