April 1st, 2008
Let's face it, when we're tourists we can be targets of theft – even if it's only petty theft. This is even more true when you're traveling with kids: You're more vulnerable since your eyes are on your kids, not to mention your bags, money and passports.
Don't despair! Here are some tricks to help you safeguard your possessions.
Your pocketbooks and knapsacks should have zippers so you can't be as easily pick pocketed. I purchased a special small pocketbook that has special straps that are difficult to cut (they have wire inside them). Two of the pockets inside zip and there's an extra flap over the top that closes so someone can't easily slip their hand inside of it.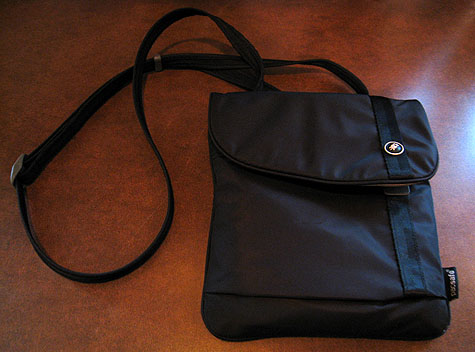 We bought safety pouches to wear under our clothes to keep our passports tucked away. There's one type that you wear around your waist and another that you wear around your neck under your shirt. We also kept photocopies of our passports on us in case we lost the originals.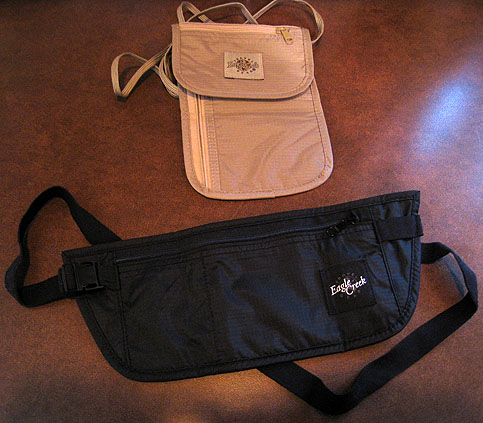 Unfortunately, one of the pouch's zippers broke before we even left our house (when my husband tried to fit in all 4 of our passports and zip it up), so we only had one to bring. So the lesson there is to test out your equipment a couple of days before you leave.
Beware of pickpockets! My husband was careful to keep his wallet in his front pocket.
Every nation has its own currency and it's a good idea to look it over before you enter the country. I found the euros to be confusing to count because they don't have bills for a 1 euro and a 2 euro. They're both coins. So if you give someone a 10 euro note, you may be handed back a lot of change in coins. If you're traveling with kids, it's probably a good idea for either you or your partner to take responsibility for paying, while the other watches the kids. This way, whoever is paying can take the time to count the change. I was short changed a couple of times. The first time, in the airport after we first arrived, I realized it too late. I only lost a euro, but it was a good lesson to be vigilant. Another time, in a pharmacy, I was shortchanged a euro again. This time I was ready and pointed out the "error" and got the correct change.
I'm sure this happens to tourists in all countries. They're obvious targets.
Below are some images of euros as a reference for people traveling to Europe.
Here are images of 1, 2, 5 and 10 cent euros. (The coins of the each denomination are lined up in columns.) You can see that the back of the euros can look different, even when they're the same euro amount…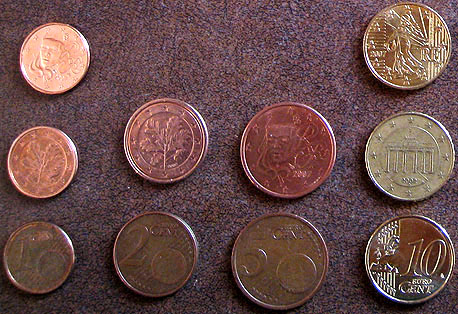 Here's a photo of 20 and 50 cent euros…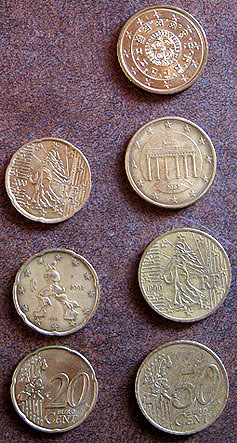 Finally, below you'll find a photo of 1 and 2 euro coins. You can see there are a lot of variations on the back of the 1 euro coins I got back for change…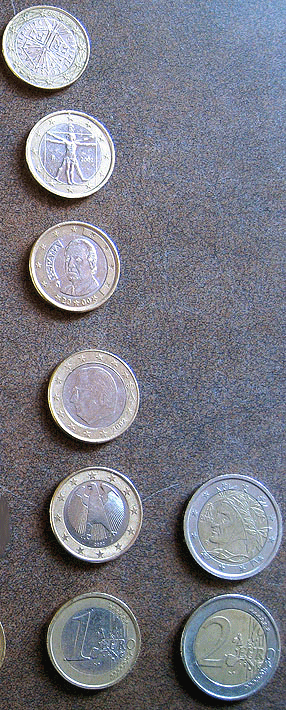 What's interesting to me is that when I lived in France as a college student, and then toured around Europe, someone only tried to short change me one time when I first arrived in France. This time there were several occasions where people made attempts to cheat me, either by shortchanging or overcharging. I wonder if having kids made the difference? Maybe we seemed more vulnerable. Fortunately, the amounts were small so we can laugh it off as an experience. I had a great time and I'd love to return to Europe tomorrow, but it is a good idea to be aware of your surroundings while there.
Here are some sites where you can find images of various foreign currencies, if you'd like to familiarize yourself with them. (These can be fun to look at with kids, even if you aren't planning any travel.)
Don's World Coin Gallery (Select by Country)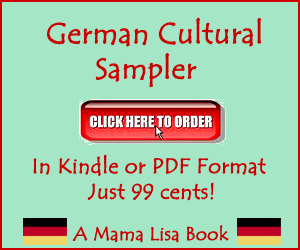 Leave a Reply