January 13th, 2013
Charleen wrote asking for help with the exact wording and spelling of a Sicilian version of "This Little Piggy" that sounds like "Ucchellino fonda notte".  Here's her email…
I have been trying to figure out a little finger play my Sicilian grandmother used to say…it is like "this little piggy went to market"    You make a circle in the palm of child's hand while saying the first two lines then wiggle each finger starting with thumb.  The last line is the baby finger and is just, I think, nonsense words.

Ucchellino fonda notte
che viva in arbusto
Questo sparo
Questo monda
Questo cuocere
Questo manga
Questo peedee pedito,
Peedee pedito,
Peedee pedito
(That is just a noise.)

And the translation is:

There was a baby bird in the dead of night
Who lives in a shrub
This one killed it
This one cleaned it
This one cooked it
This one ate it
This one said
Peedee pedito,
Peedee pedito,
Peedee pedito.
Please write us in the comments below if you can help in any way.
Thanks in advance!
Mama Lisa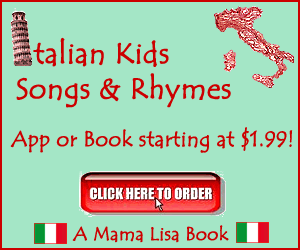 This artilce was posted on Sunday, January 13th, 2013 at 8:46 am and is filed under Countries & Cultures, Finger Plays, Handplays, Italian, Italian Nursery Rhymes, Italy, Languages, Nursery Rhymes, Questions, Sicilian, Sicilian Rhymes, Sicily. You can follow any responses to this entry through the RSS 2.0 feed. You can leave a response, or trackback from your own site.
One Response to "Can You Help with a Sicilian Italian Rhyme that Sounds Like "Ucchellino fonda notte"?"
stephanie Says:
March 23rd, 2013 at 7:11 am

my Nonna used used to do a small hand play with me. I think it went like this:
This is the girl,
who walks the sheep,
across the square,
and the sheep go,
wee wee wee,
all the way home…

She would hold my palm open and walk two fingers across my palm 3 times and then the sheep would "run" all the way up my arm to a tickle.

Did anyone else play this? I would love to have the translation.
Leave a Reply