About Hoecakes (Johnny-cakes) with a Recipe & Song
January 15th, 2013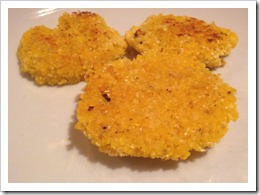 A hoecake is a flat cake similar to a little pancake that's made with cornmeal. The name comes from the fact that American farmers cooked them right on the end of their hoes over a fire. This type of food originally comes from the Native Americans.
Hoecakes were originally made by farmers with just cornmeal, salt and water.  I added a little sugar to make it more palatable for my family.  (Omit the sugar if you'd like.)  In the nice weather, I plan to make these outside over the fire of my grill. 
Recipe for Hoecakes

1 1/2 cup Medium Grain Cornmeal
1 cup Boiling Water
1 t. Sugar
Salt to taste
Butter for cooking

1.  Mix cornmeal with sugar and salt in a bowl.

2.  Slowly add most of the boiling water to the cornmeal mixture until it holds together.  You may not need the whole cup. 

3. Heat about a teaspoon or two of butter in a cast iron pan on medium-low heat.  You want to coat the pan.

3.  Use your hands to press the cornmeal mixture together and make little cakes.  (You can see in the photo below how this mixture needs to be press together by hand.)

4.  Place the cakes in pan and cook until golden brown.

Serve with butter is desired.
Hoecakes are called Johnnycakes in the northern United States – particularly in Connecticut and New England. Some recipes for Johnnycakes include flour and milk.
There's an old American song about hoecakes called Snake Baked a Hoecake and a tale called Johnny-cakes.
Enjoy!
Mama Lisa
This article was posted on Tuesday, January 15th, 2013 at 1:08 pm and is filed under American Cuisine, Breakfast and Brunch, Countries & Cultures, Cuisine, Hoecakes, Johnny Cakes, Lunch, Native American Indian, Recipes of the World, Side Dishes, USA. You can follow any responses to this entry through the RSS 2.0 feed. You can skip to the end and leave a response. Pinging is currently not allowed.
Leave a Reply