February 4th, 2013
Mike wrote asking about a Hungarian song.  Here's his email:
My Hungarian mother would sing a song to us as children ….

The first line of the song started "PeePee Madar …"

I know the first line is pronounced:

Peepee Madar; (wee bird) … 'jetta ega' 'hosa', 'volta moldra' 'kesh kasemba' 'hosa', …. , 'aba kolba, aba kolba' …

It's about a little bird eating crumbs …

Do you know the rest of the lyrics in Hungarian & can you translate them into English for me?

Thank you so much for help!  Miha'ly (Mike)
If anyone can help with this song, please let us know in the comments below.
Thanks!
Mama Lisa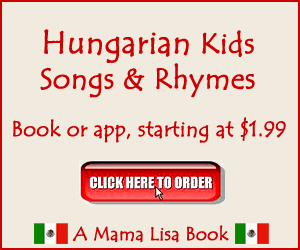 Leave a Reply