Je cherche des musiciens
I'm Looking for Musicians
Chanson enfantine
Children's Song
Je cherche des musiciens,
De quel instrument jouez-vous ?
Nous sommes des musiciens
Et nous jouons du piano
Pia pia piano….

Je cherche des musiciens,
De quel instrument jouez-vous ?
Nous sommes des musiciens
Et nous jouons de la trompette
Trom trom trom…

Je cherche des musiciens,
De quel instrument jouez-vous ?
Nous sommes des musiciens
Et nous jouons des castagnettes
Cla cla cla cla…

Je cherche des musiciens,
De quel instrument jouez-vous ?
Nous sommes des musiciens
Et nous jouons des cymbalettes
Gling gling gling…
I'm looking for musicians,
What instrument do you play?
We are musicians
And we play the piano.
Pia, pia, piano…

I'm looking for musicians,
What instrument do you play?
We are musicians
And we play the trumpet.
Trum, trum, trum…

I'm looking for musicians,
What instrument do you play?
We are musicians
And we play the castanets.
Cla, cla, cla…

I'm looking for musicians,
What instrument do you play?
We are musicians
And we play the cymbals
Cling, cling, cling…
Notes
This song can be sung with any other instrument.

Sheet Music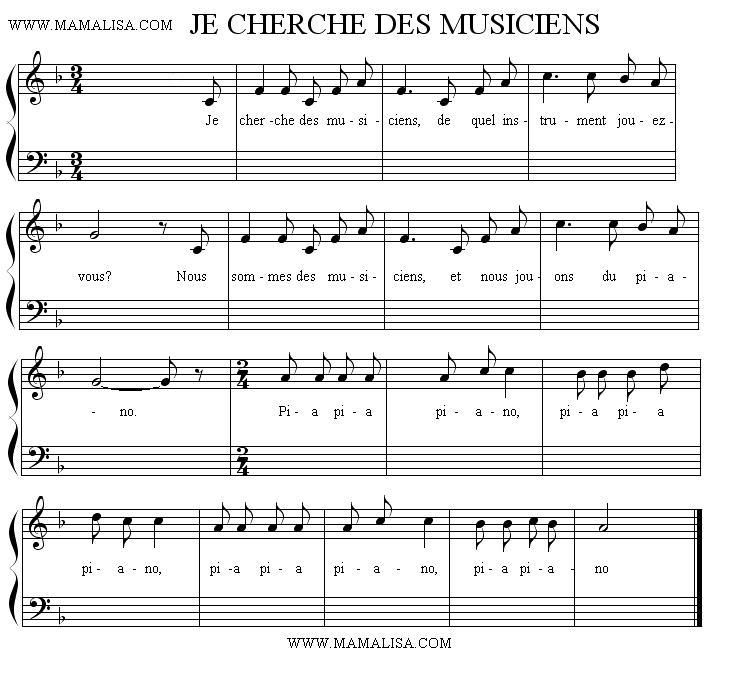 Thanks and Acknowledgements
Many thanks to Edit' Dupont for contributing and singing this song for Mama Lisa's World. Translated by Monique.
Merci beaucoup!
Let us know what you think!
If you feel any comment below is inappropriate, please email us. Thanks!