Children's Song
Children's Song
Una mosca volava per la llum, llum, llum
i la llum es va apagar, es va apagar
i la pobra mosca va quedar a les fosques
i la pobra mosca no va poder volar, volar, volar

(amb la "a")

Ana masca valava par la llam, llam, llam,
A la llam as va pagar as va pagar
A la pabra masca va cadar las fascas
a la pabra masca na va padar vala, vala, vala

(amb e, i, o, u)
A fly was flying by the light, light, light,
And the light went off, went off,
And the poor fly found itself in the dark,
And the poor fly couldn't fly, fly, fly.

(with "a")

A fla was flaang ba the laght, laght, laght,
And tha laght went aff, want aff,
And tha par fla fand atsalf an tha dark,
And tha par fla caldn't fla, fla, fla.

(with "e", "i", "o", "u")

Many thanks to Alicia Calvo for recording this song for us.


Sheet Music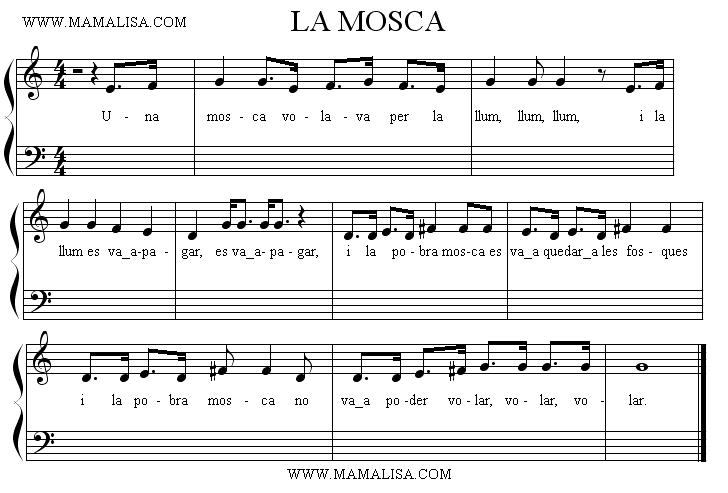 Thanks and Acknowledgements
Many thanks to Irene Comas for contributing this song and translating it into Spanish.
Moltes gràcies
Let us know what you think!
If you feel any comment below is inappropriate, please email us. Thanks!