Tropanka – A Bulgarian Dance
February 22nd, 2016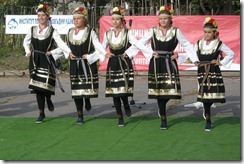 The tropanka is a folk dance from the Dobruja region of Bulgaria. In Bulgarian, it's spelled Тропанка.
It's traditionally danced as a line dance in the shape of an arc.  The dancers generally hold hands throughout the dance. There are many regional variations to it.
You can listen to the Tropanka Tune here and watch the dance in the videos below.

You can find directions for dancing the Tropanka here.
Many thanks to Sadao Mazuka for pointing out this dance and for creating the midi tune for us!
Mama Lisa 
Image: Photo of Dancing Bulgarian Girls in Traditional Bulgarian National Costumes, by Ivanov Id, cc.
Leave a Reply