Traveling With Kids
February 3rd, 2008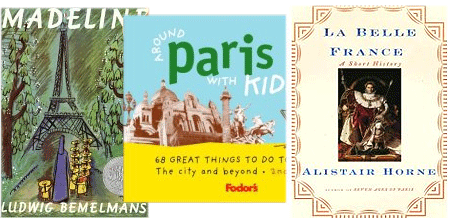 My family and I are planning a trip to France! And, yes, that does include my six year old daughter and thirteen year old son.
My husband and I are very excited, but we're trying to go with our eyes open: It's not going to be easy! Traveling with young ones is always a challenge, and the current low value of the dollar makes the financial burden that much greater.
Here's a few of the thoughts we've had and resources we've discovered as we prepare.
Baby Jetsetter is a wonderful blog about traveling with kids. It's focused on babies, so my kids are a bit old for some of the tips, but if you're planning a trip with the diaper and pacifier set, you should definitely check it out. For instance, the latest post gives great recommendations on what to pack and what not to pack in your carry-on bag for the plane.
The falling value of the US dollar is making traveling more expensive for Americans. Just this morning the New York Times posted an article on some coping strategies. I particularly like the suggestion of one commenter to forgo expensive Parisian restaurants and, instead, plan some picnics of baguettes and wheels of Brie or Camembert. (And maybe some grapes or apples on the side. I can't completely ignore my diet!) What could be more genuinely Parisian?
I can get by in French, and my son is studying it in school. But my husband and daughter don't know a word. I'm trying to prepare them by injecting some phrases into our conversation where I can. A few bonjour's and s'il vous plait's may not seem like much, but they're a start.
And then, of course, there are the books!
I'm planning on picking up Ludwig Bemelmans classic Madeline to help acquaint my daughter with images of Paris in a way she can relate to.
There's only so much wandering around museums we can expect a six year old and thirteen year old to tolerate, so we picked up Fodor's Around Paris with Kids. It's filled with kid friendly parks, boat rides and amusement parks that will, hopefully, make the city of lights come alive for our kids.
And finally, my husband is an inveterate reader and a history buff. He refuses to leave the house without studying two thousand years of the history of any place he goes. So he picked up La Belle France, A Short History by Alistair Horne. When we finally arrive, he may not be able to speak a word, but we'll have to struggle to cut him off from lecturing us for hours about the historical background of every monument and Roman ruin we visit.
It's taking a lot of preparation and it's going to cost us a bit, but I think traveling is very important for both kids and adults. And, despite all the anticipated problems, it should be a huge amount of fun!
This article was posted on Sunday, February 3rd, 2008 at 2:27 pm and is filed under Countries & Cultures, France, France, French, Languages, Languages, Languages, Learning, Mama Lisa, Parenting, Parenting Sites, Paris, Recommendations, Teaching, Travel Sites, Traveling, Traveling with Kids, USA. You can follow any responses to this entry through the RSS 2.0 feed. You can skip to the end and leave a response. Pinging is currently not allowed.
3 Responses to "Traveling With Kids"
Susanna Says:
February 3rd, 2008 at 7:55 pm

That should be very exciting for you all, hopefully a wonderful experience.

Hannah Says:
February 4th, 2008 at 5:53 am

I'm trying to track down a song my grandfather sang to me. All that I can remember of the song is that its about a love and green mist? something about the male being surrounded by the green mist. Please someone help me, I used to know this song by heart and I wish to sing it to my children now.

Monique Says:
February 18th, 2008 at 1:55 pm

When the kids were much younger but old enough to be able to write by themselves, they wouldn't leave without a bag with a note book and a pencil case with: pen, pencil, eraser, color pencils, scissors for kids and a glue stick in it. They also had a disposable photo camera. Every evening they would write about what they'd done and seen, they would draw some pictures, cut out and glue in pictures from the leaflets you always get when you go visit places and monuments, glue in a used subway/bus/train ticket, a bottle or a box label. At the end of the trip, they had the photos developed and they could (or not) glue them, but all in all, they had a nice travelog they were proud to show their friends and school mates. It also helps to set the memories down and not only their own!

Now they'd rather have a cheap digital camera if they're too young to have a regular one. I say "cheap" because I suppose you'd want to avoid a nice bunch of money to fall into some body of water "Look at the swans!"… splash! too late! or to disappear because "I left it besides you so you could watch it, didn't you notice?"

You might want to take a "treasure" box (like the plastic soap boxes for vanity cases) for each of them so they can keep some things they'd gather or kept: stones and seashells (don't yield to the "please Mommy, this one is soooooooo pretty but it can't fit into the box, can I take it nonetheless?" or you'll come back with enough stones to build a wall around your house and extra-weight plane charges so high you could have hired someone to build an actual wall before you left), a bottle cap, a pretty flower or leaf you'd have dried between some book pages could be nice but make sure you can take them into the US. Don't take any seed even if pretty. I don't know if you can bring back beach or desert sand into the US but I'm afraid you can't.
Leave a Reply