Timbuktu and "The Sailor Went to Sea"
July 26th, 2006
The other day I posted a question about a children's song that mentioned Timbuktu. We found it! It's the Australian version of The Sailor Went to Sea.
Monique of Mama Lisa's World en français saw the post. She sent me this interesting photo. The sign says "Timbuktu 52 Days" in French. Here's what she had to say about it…
About Timbuktu, we French spell it Tombouctou. In the South of Morocco, there's the village of Zagora, which is also known as "The Desert Gate" or "The Sahara Gate". In Zagora there's a signpost saying "Tombouctou 52 Jours", meaning 52 days of camel travel from Zagora to Timbuktu. Everybody going there takes a photo of it. Here's a photo…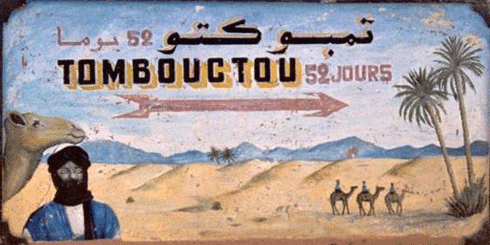 Zagora is called "The Desert Gate" because it's one of the last towns in Morocco before the start of the Sahara Desert. Camel caravans used to stop at Zagora before going to Timbuktu. It would take 52 days to get there!
It seems that many people in France are familiar with that sign and French tourists who visit that part of Morocco are sure to take pictures beside it. But, as far as I know, most people in the US have never even heard of the sign. I find it interesting that a landmark can be famous in one country and yet almost totally unknown in another!
This article was posted on Wednesday, July 26th, 2006 at 9:25 pm and is filed under Australia, Australian Kids Songs, Children's Songs, Countries & Cultures, France, Mali, Mama Lisa, Morocco, The Sailor Went to Sea, Timbuktu, Zagora. You can follow any responses to this entry through the RSS 2.0 feed. You can skip to the end and leave a response. Pinging is currently not allowed.
One Response to "Timbuktu and "The Sailor Went to Sea""
alsattar Says:
August 11th, 2011 at 11:58 pm

ohh that pictures too beautiful its not fair i should be there years ago and right now.
Leave a Reply