The Worm – A Poem with an Illustration and MP3
August 25th, 2011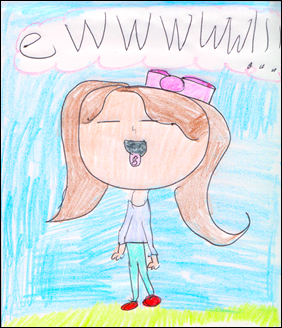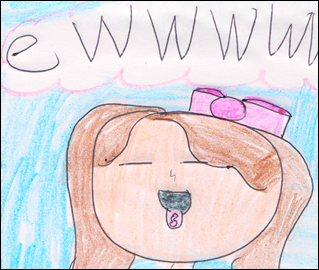 The Worm 
by Ralph Bergengren (1871-1947)
When the earth is turned in spring
The worms are fat as anything.
And birds come flying all around
To eat the worms right off the ground.
They like the worms just as much as I
Like bread and milk and apple pie.
And once, when I was very young,
I put a worm right on my tongue.
I didn't like the taste a bit,
And so I didn't swallow it.
But oh, it makes my Mother squirm
Because she thinks I ate that worm!
Thanks to Lila for reciting "The Worm" and to Sarina for illustrating it!
This article was posted on Thursday, August 25th, 2011 at 6:44 pm and is filed under Countries & Cultures, England, English, Languages, MP3's, Poems, Poems about Bugs, Poetry, Poets, Ralph Bergengren, Recordings, Recordings of Poems, USA. You can follow any responses to this entry through the RSS 2.0 feed. You can skip to the end and leave a response. Pinging is currently not allowed.
One Response to "The Worm – A Poem with an Illustration and MP3"
grampa Says:
August 26th, 2011 at 12:45 pm

You did an amazing job! You've got dramatic talent. I am impressed.
Leave a Reply