The Sea Princess Poem
June 26th, 2010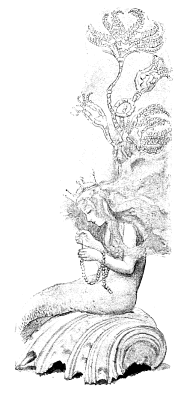 Katherine Pyle (1863 – 1938) wrote this version of The Sea Princess for the children's magazine St. Nicholas in 1890.
The Sea Princess
By Katherine Pyle (1863 – 1938)

In a garden of shining sea-weed,
Set round with twisted shells,
Under the deeps of the ocean,
The little sea princess dwells.

Sometimes she sees the shadow
Of a great whale passing by,
Or a white-winged vessel sailing
Between the sea and the sky.

Without the palace, her sea-horse
Feeds in his crystal stall,
And fishes with scales that glisten
Come leaping forth at her call.

And when the day has faded,
From over the lonesome deep,
In a shell as smooth as satin
The princess is rocked to sleep.
A longer version of The Sea Princess exists, but I prefer the shorter one.
Enjoy!
Mama Lisa
PS If you're looking for a nursery rhyme about a queen, check out an illustrated one I just posted called, The Army of the Queen.
This article was posted on Saturday, June 26th, 2010 at 4:29 pm and is filed under Countries & Cultures, English, Katherine Pyle, Languages, Mama Lisa, Poems, Poetry, Poets, The Sea Princess, USA. You can follow any responses to this entry through the RSS 2.0 feed. You can skip to the end and leave a response. Pinging is currently not allowed.
One Response to "The Sea Princess Poem"
John Swinsburg Says:
July 11th, 2010 at 12:15 am

Great little poem. Will carry it with me when I sail in the Sea Princess from Sydney to Sydney in 2011
Leave a Reply