The Ring on a String Game with a Song
January 23rd, 2013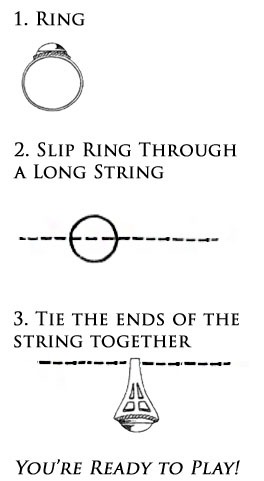 The Ring on a String Game is a traditional game that's played in many countries.  Sometimes it's called Hunt the Ring.  Here's how you play…
1. Slip a ring on a long string and tie both ends. To determine the length of the string, you need to use about 24″ of string (50cm+) per player.
2. Everyone should stand in a circle and hold the string with both hands – so there will be one long circle of string that's held by everyone in the circle.  One person should go in the center of the circle.
3. The people holding the string should pass the ring along the string from hand to hand while hiding the ring.  Everyone in the circle should always be pretending to pass the ring, even when they don't have it.
4, The one in the middle has to guess who has the ring.  As soon as she guesses correctly, she switches places with that person.
Below is a video showing how to play the game.  After the video, you can find the lyrics they're singing of a song to play this game to…
Can you guess who has the ring
As we pass it on the string?
Pass it left, pass it right,
Always keep it out of sight.
The French kids song, "Il court le furet" (The Ferret Runs) is a Ring on a String Game too.
Enjoy!
Mama Lisa
7 Responses to "The Ring on a String Game with a Song"
Leave a Reply