The Moo-Cow-Moo
October 24th, 2012
The Moo-Cow-Moo was written by Canadian born poet Edmund Vance Cook.  It gained great popularity after it was published in The Saturday Evening Post in 1903.  Many of my readers have fond memories of The Moo-Cow-Moo.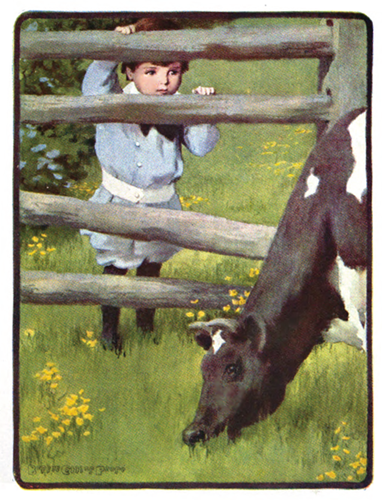 Below you can read the poem and listen along with the mp3 recording…
The Moo-Cow-Moo
by Edmund Vance Cook
My pa held me up to the Moo-Cow-Moo 
So clost I could almost touch, 
En I fed him a couple of times, or two, 
En I wasn't a 'fraid-cat much. 

But ef my papa goes into the house 
En mama, she goes in, too, 
I just keep still, like a little mouse. 
Fer the Moo-Cow-Moo might moo. 

The Moo-Cow-Moo's got a tail like a rope, 
En it's raveled down where it grows. 
En it's just like feeling a piece of soap 
All over the Moo-Cow's nose. 

En the Moo-Cow-Moo has lots of fun 
Just swinging his tail about; 
En, he opens his mouth and then I run - 
Cause that's where the moo comes out.

En the Moo-Cow-Moo's got deers on his head.
En his eyes stick out o' their place. 
En the nose o' the Moo-Cow-Moo is spread 
All over the end of his face. 
Read by Kara Shallenberg
Here's another version of Moo Cow Moo on video…
Enjoy!
Mama Lisa
This article was posted on Wednesday, October 24th, 2012 at 12:39 pm and is filed under Canada, Countries & Cultures, England, English, Languages, MP3's of Poems, Poems, Poems about Cows, Poetry, Recordings of Poems, USA. You can follow any responses to this entry through the RSS 2.0 feed. You can skip to the end and leave a response. Pinging is currently not allowed.
Leave a Reply