The Ides of March
March 15th, 2010
"Beware the Ides of March" is a familiar saying in English. The "Ides of March" is on March 15th – today! It means bad things will happen on this day!
Here's an interesting note in Cicero's De senectute et De amicitia, about the meaning of the word ides.
The Romans divided their months into three parts, by Kalends, Nones and Ides. The first day was Kalendae or Calendae, (a calando vel vocando,) from the priest calling out to the people that it was new moon; the fifth day, Nonae, the Nones: the thirteenth, Idus, the Ides, from the obsolete verb, Iduare, to divide, because the Ides nearly divided the month. The Nones were so called, because counting inclusively [including the day you're on], they were nine days from the Ides. In March, May, July, and October, the Nones fell on the seventh and the Ides on the fifteenth.
They had a complicated system of reckoning the month!
The origin of the sinister meaning of the Ides of March is based on the fact that it was the actual day that Julius Caesar was assassinated in 44 BC by Roman Senators. The actual saying comes from Shakespeare's play Julius Caesar, "A soothsayer bids you beware the ides of March."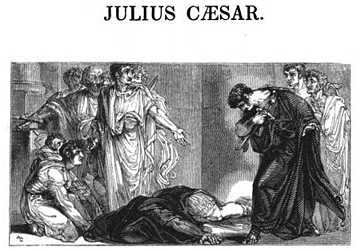 The ides of a few different months had special significance in Roman times according to The Mirror of literature, amusement, and instruction, Volume 23 by Reuben Percy…
The ides of May were consecrated to Mercury ; the ides of March were always esteemed unhappy after Caesar's murder; the time after the ides of June was reckoned fortunate for those who entered into matrimony; the ides of August were consecrated to Diana, and were observed as a feast-day by the slaves ; on the ides of September, auguries were taken for appointing the magistrates, who formerly entered into their offices on the ides of May, and afterwards on those of March.
Today is March 15th. Beware the Ides of March!
Mama Lisa
PS The image comes from "The Dramatic Works of William Shakspeare" (1826). Thanks to Joanne Ladd for reminding me about today!
Leave a Reply