The Grasshopper and the Ant – A Jean de La Fontaine Fable (In French and English)
July 16th, 2015
It's always fun to read fables. They make you think of an earlier, simpler time.
We think of fables as being for young children. However, a French teacher I recently spoke with told me that in France today, Jean de La Fontaine's fables are mostly read by high school students.  That's because the language is too archaic for young kids.
The word "cigale" literally translates to "cicada". For some reason, many English versions of the fable change it to "grasshopper" as is the case in the English version here.
Below you can read La Cigale et la fourmi in French and listen to a French recording of the fable.  After that, you can read a rhyming English version called The Grasshopper and the Ant and listen to an English recording of it.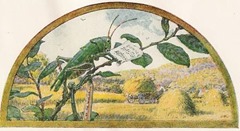 MP3 Recording in French of La Cigale et la fourmi

La Cigale et la fourmi
by Jean de La Fontaine
La cigale ayant chanté
Tout l'été,
Se trouva fort dépourvue
Quand la bise fut venue :
Pas un seul petit morceau
De mouche ou de vermisseau.
Elle alla crier famine
Chez la fourmi sa voisine,
La priant de lui prêter
Quelque grain pour subsister
Jusqu'à la saison nouvelle.
« Je vous paierai, lui dit-elle,
Avant l'août, foi d'animal,
Intérêt et principal. »
La fourmi n'est pas prêteuse :
C'est là son moindre défaut.
« Que faisiez-vous au temps chaud ?
Dit-elle à cette emprunteuse.
— Nuit et jour à tout venant
Je chantais, ne vous déplaise.
— Vous chantiez ? J'en suis fort aise :
Eh bien ! Dansez maintenant. »
Recorded by Monique Palomares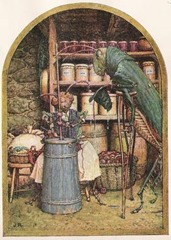 Here's an English version of this fable…
MP3 Recording in English of The Grasshopper and The Ant
The Grasshopper and The Ant
English version by W. T. Larned

The Grasshopper, singing
All summer long,
Now found winter stinging,
And ceased in his song.
Not a morsel or crumb in his cupboard–
So he shivered, and ceased in his song.
Miss Ant was his neighbor;
To her he went:
"O, you're rich from labor,
And I've not a cent.
Lend me food, and I vow I'll return it,
Though at present I have not a cent."
The Ant's not a lender,
I must confess.
Her heart's far from tender
To one in distress.
So she said: "Pray, how passed you the summer,
That in winter you come to distress?"
"I sang through the summer,"
Grasshopper said.
"But now I am glummer
Because I've no bread."
"So you sang!" sneered the Ant. "That relieves me.
Now it's winter–go dance for your bread!"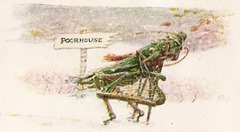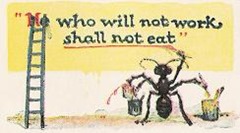 Illustrations by John Rae.
Many thanks to Monique Palomares for the French recording. Monique works with me on the French and Spanish versions of Mama Lisa's World.
This article was posted on Thursday, July 16th, 2015 at 3:43 pm and is filed under Books & Stories, Countries & Cultures, English, Fables, France, French, Jean de La Fontaine, Languages, MP3's, Poetry, Poets, Recordings, Recordings of Poems. You can follow any responses to this entry through the RSS 2.0 feed. You can skip to the end and leave a response. Pinging is currently not allowed.
8 Responses to "The Grasshopper and the Ant – A Jean de La Fontaine Fable (In French and English)"
Leave a Reply