A French Rhyme – J'ai deux mains (I Have 2 Hands)
October 12th, 2012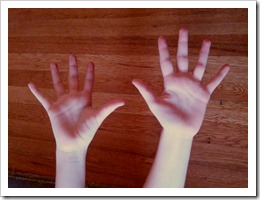 Here's a video of the French rhyme and hand play, J'ai deux mains (I Have Two Hands), with the French lyrics and an English translation.
J'ai deux mains

J'ai deux mains,
Elles sont toutes propres,
Elles se regardent,
Se tournent le dos.
Elles se croisent,
Elles se tapent,
Elles nagent,
Elles s'envolent tout là-haut
Et elles se cachent
derrière mon dos.

English Translation:

I have two hands,
They're all clean,
They look at each other,
They turn back to back.
They cross and clasp,
They clap,
They swim,
They fly up there
And they hide
Behind my back.
Enjoy!
Mama Lisa
This article was posted on Friday, October 12th, 2012 at 4:44 pm and is filed under Children's Songs, Countries & Cultures, France, French, French Kids Songs, French Rhymes, Games Around the World, Handplays, Languages, Nursery Rhymes, Rhyme Games, YouTube. You can follow any responses to this entry through the RSS 2.0 feed. You can skip to the end and leave a response. Pinging is currently not allowed.
Leave a Reply