The Dragon Boat Festival
June 9th, 2008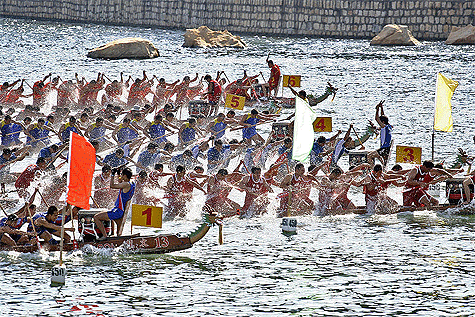 The Dragon Boat Festival falls on the fifth day of the fifth moon (month) in the Chinese New Year. This year that's today!
According to Andrew Sullivan, it falls on this day, "in remembrance of Qu Yuan, a patriotic poet who committed suicide in the Miluo River on the day in 221 BC." Depending on which story you follow, Qu Yuan was either protesting the corruption of the government, or was so depressed by it, that he killed himself!
The legend is that the villagers raced out onto the river to try to save Qu Yuan, but it was too late. So they threw rice into the river to keep the fish from eating his body. They also beat the water with their paddles to scare away the fish. This race in search of Qu Yuan's body became the tradition of the dragon boat race.
Every year on the fifth day of the fifth month the villagers threw rice in the river to feed Qu Yuan's spirit. According to the legend, the spirit of Qu Yuan appeared one night and told the villagers that he was eaten by the river dragon. He said the river dragon was eating the rice they were throwing into the river. So he asked them to wrap the rice in silk and tie it with different colored strings before throwing it in (this became known as zongzi). The colors will scare away the dragon and he won't be able to untie the strings. He said they should also throw in loose rice. The loose rice would be to feed the dragon and the zongzi would feed Qu Yuan. Today, the tradition is to eat zongzi for the Dragon Boat Festival. Nowadays, zongzi is typically made with rice wrapped in bamboo leaves.
The Dragon Boat Festival is known as the Duanwu Festival in China and Taiwan. It's known as the Tuen Ng Festival in Hong Kong and Macau.
The Photo is from Dragonboat Racing Festival in Macau 2005 by Iidxplus on Wikipedia, and was slightly edited by Mama Lisa.
This article was posted on Monday, June 9th, 2008 at 3:19 pm and is filed under Cantonese, China, Chinese, Countries & Cultures, Dragon Boat Festival, Holidays Around the World, Hong Kong, Languages, Mama Lisa, Mandarin, Taiwan. You can follow any responses to this entry through the RSS 2.0 feed. You can skip to the end and leave a response. Pinging is currently not allowed.
Leave a Reply