Symbolic Food Eaten for the New Year in Japan
January 12th, 2010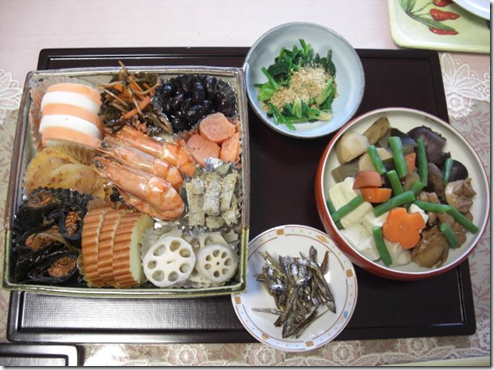 Ayako Egawa shared this photo of food typically eaten for the New Year in Japan.  These foods are symbolic of good fortune, good health and prosperity.  This is the meal Ayako's Mom made this year for her family for the New Year.
Ayako wrote:
Hi Lisa, Japanese New Year food is called Osechiryori.  Osechiryouri is usually arranged in lacquer boxes though it is arranged in dishes in my photo. Osechiryouri in lacquer boxes is traditional and looks more gorgeous.

I'll tell you the meanings of 4 typical foods eaten…

Kuromame, is on the top right side of the square dish, it's sweet black beans.  Kuroname represents the idea that people may have a healthy life, because mame has two meanings, one is beans and the other is good health.

Tadukuri, is the small fish on the small round dish, it's small dried Teriyaki sardines. It represents wishes for a rich harvest.
 
Kazunoko, is on the far left of the second row of the square dish, it's salted herring roe. It represents wishes for lasting posterity.
 
Renkon, is on the far right on the bottom of the square dish.  It's simmered lotus root.  It represents good fortune because it has holes to look through to the future.

I hope you enjoy these meanings.

Here is some information about Osechiryouri. Check it out!
(You can see the pictures and the English translation of the food here.)
Many thanks to Ayako Egawa for sharing this with us!
You can learn more about Symbolic Foods Eaten Around the World for the New Year on a previous blog post.
Cheers!
Mama Lisa
This article was posted on Tuesday, January 12th, 2010 at 12:22 pm and is filed under Countries & Cultures, Cuisine, Holidays Around the World, Japan, Japanese, Japanese Cuisine, Languages, New Years, Osechiryouri - Japanese New Years Food, Recipes of the World, Symbolic Foods for the New Year. You can follow any responses to this entry through the RSS 2.0 feed. You can skip to the end and leave a response. Pinging is currently not allowed.
One Response to "Symbolic Food Eaten for the New Year in Japan"
Lisa Says:
January 13th, 2010 at 10:29 am

Ayako later said…

"Mochi soup is called Zoni. It's a typical traditional New Year soup. In the Eastern district, people prefer clear soup and in the Western district people prefer white miso soup."
Leave a Reply