Swedish Children's Song and Dance
July 2nd, 2011
Here's the score to a Swedish song and dance.  We don't have the original Swedish lyrics.  We do have an English translation, instructions for the dance and 2 midi tunes.  Does anyone know the original Swedish version?  If so, please share them with us in the comments below.
Midi of the Swedish Children's Song
Midi 2 of the Swedish Children's Song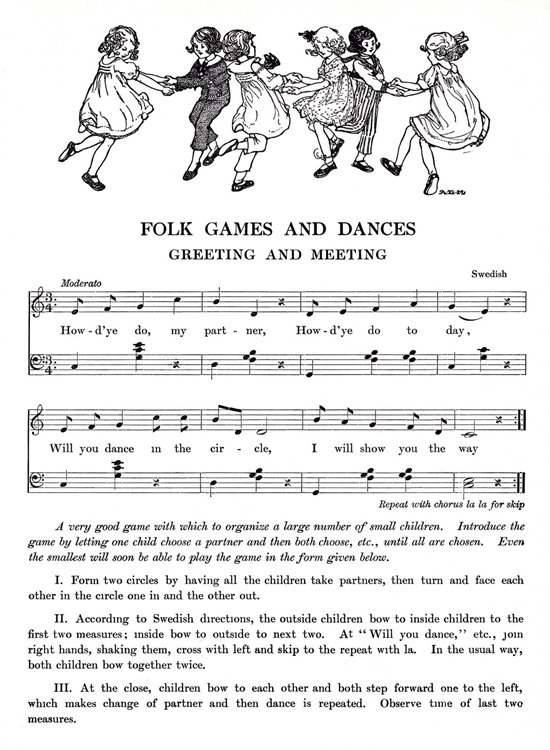 Many thanks to Karen Watson from The Graphics Fairy for sharing this song and score with us!  Check out her site for vintage images and crafty projects.
Thanks to Monique Palomares for the midis.  Monique works with me on the French and Spanish versions of Mama Lisa's World
Mama Lisa
This article was posted on Saturday, July 2nd, 2011 at 7:44 pm and is filed under Children's Songs, Countries & Cultures, Dances, English, Games Around the World, Languages, Questions, Sweden, Swedish, Swedish Children's Songs. You can follow any responses to this entry through the RSS 2.0 feed. You can skip to the end and leave a response. Pinging is currently not allowed.
One Response to "Swedish Children's Song and Dance"
Walk Without Pan Says:
July 16th, 2015 at 7:58 am

Its great that this song comes with instructions on how to do the dance. my kids love learning new nursery rhymes & dances. Thank you
Leave a Reply