Furin and the Sounds of Old Japan
June 13th, 2011
You know how different places have different sounds associated with them?  One sound you used to hear all around Japan was glass wind-chimes. They're called furin 風鈴.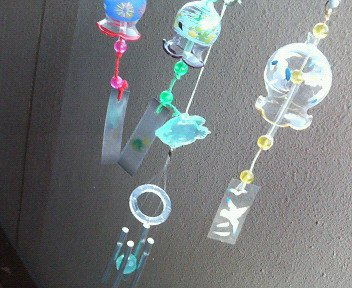 Here's what wikipedia wrote about furin, "Japanese glass wind bells known as Fūrin (風鈴) have been produced since the Edo period… Wind chimes are thought to be good luck in parts of Asia and are used in Feng Shui."
Ayako shared the photo below with the following note:
"Fuurin 風鈴 are our traditional chimes.  (鈴 alone means bell.)  You can hear them ringing in the wind. It adds a cool feeling in the humid summer in Japan!
Nowadays, they're not heard as much.  Though everyone is familiar with them."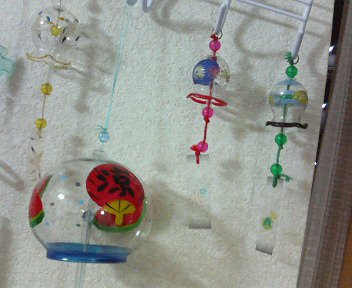 I found a couple of videos on YouTube so you can hear the sound of these chimes.  What's interesting is that they sound different in each video.  Check them out below…
If you live in Japan, please let us know if you or your friends still hang these lovely bells.

Thanks for sharing Ayako!
-Mama Lisa
8 Responses to "Furin and the Sounds of Old Japan"
Leave a Reply