Semamori – Japanese Embroidered Good Luck Symbols on Kids Clothes
May 30th, 2013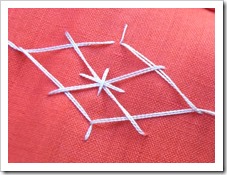 Semamori (背守り) is an old tradition in Japan of embroidering a good luck symbol or amulet on the back of a baby's clothing.  It was traditionally embroidered on the top back of the child's kimono. 
Semamori means "to protect the back".  It was believed that the devil came from behind a person and thus they needed protection on the back.  This was especially true for babies who had such a high mortality rate.
The symbols were often embroidered in white or red  These are good luck colors in Japan.
In the photo you can see an example of semamori.
Image: Botanic
This article was posted on Thursday, May 30th, 2013 at 3:35 pm and is filed under Countries & Cultures, Customs and Traditions, Folk Lore, Good Luck, Good Luck Colors, Good Luck Symbols for Kids, Japan, Japanese, Languages, Semamori - Good Luck Symbols for Children. You can follow any responses to this entry through the RSS 2.0 feed. You can skip to the end and leave a response. Pinging is currently not allowed.
Leave a Reply