Recipe for Torta Pasqualina – Italian Easter Spinach Pie
April 7th, 2018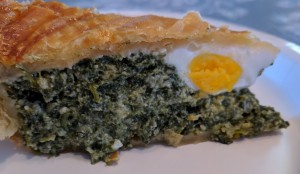 Torta Pasqualina is a traditional Italian Easter pie that's made of spinach or chard, ricotta and whole eggs enclosed in pastry puff. The dish originally comes from the northwest region of Liguria and was already known back in the 1400's. Nowadays it's served throughout Italy for the traditional picnic lunch that's enjoyed on Easter Monday.
This dish is symbolically linked to Easter not only because it has whole eggs in it, but also because it has a thin pastry shell that used to be made using 33 layers of dough in reference to the 33 years of Jesus' life.
My family loved it! I can see even making it for a brunch meal or dinner any time of the year. Here's my recipe below…
Recipe for Torta Pasqualina
Ingredients
Puff Pastry (2 sheets)
1 Sweet Onion
2 lbs. Spinach (900 g.)
1 1/2 T. Extra Light Olive Oil
1 lb. Ricotta Cheese (453 g.)
3/4 cup Grated Parmesan (105 g.)
Dash Nutmeg
Salt & Pepper to taste
6 Eggs
Directions
Preheat oven to 375 F (190 C)
1. Thaw the puff pastry. Butter a pie dish and line it with one of the sheets of puff pastry.
2. Rinse the spinach well and shake out the excess water.
3. Chop the onion into small pieces.
4. Put the olive oil in a frying pan, add the onion and cook on medium heat until soft.
5. Add the spinach, salt, pepper and nutmeg. Cover and cook until fully wilted and cooked through, stirring occasionally. This takes about 10 – 20 minutes.
6. Drain the onion/spinach mixture. Use a fork to squeeze out any extra liquid. Let cool.
7. Chop the spinach into small pieces.
8. In a mixing bowl, mix the the ricotta, 2 eggs and the Parmesan cheese. Spoon in the spinach mixture and mix well.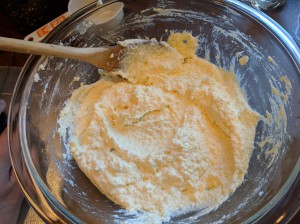 9. Pour the mixture over the puff pastry that's already in the pie dish. Spread evenly.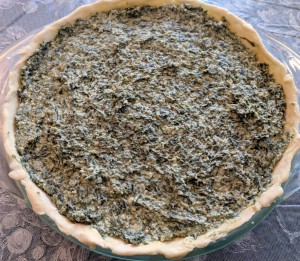 10. Make 3 indentations in the spinach. Each one should be deep enough to fit an egg.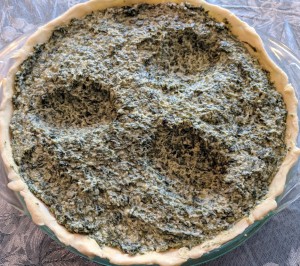 11. Crack open one egg into each egg indentation. Note – some people put more than three eggs. I saw one recipe where they used 6 eggs!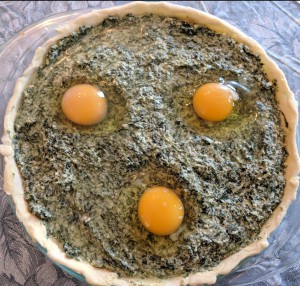 12. Cover with the other sheet of puff pastry. You can cut off any excess dough or fold it back in on itself. Gently pinch together where the edges of the two sheets of puff pastry meet around the rim of the pie dish.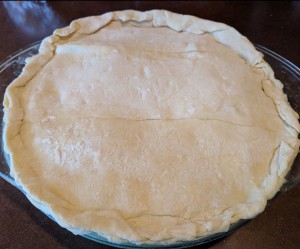 13. Using a knife, gently make a cross over where the whole eggs are so that when you go to cut it later on you can cut it in the middle of the eggs
14. Beat the remaining egg and brush over the top of the puff pastry.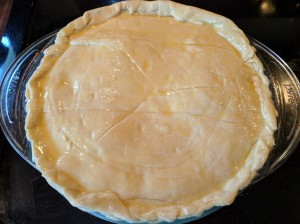 15. Cook for 45 minutes or until golden brown.
16. Let cool slightly before eating.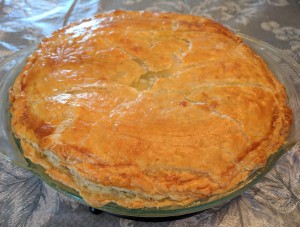 You can eat this warm which is why it's so great for a picnic!
Enjoy!
Mama Lisa
This article was posted on Saturday, April 7th, 2018 at 6:31 pm and is filed under Countries & Cultures, Easter, Easter Monday, Easter Recipes, Holidays Around the World, Italian Cuisine, Italy, Mama Lisa, Recipe for Torta Pasqualina, Recipes of the World. You can follow any responses to this entry through the RSS 2.0 feed. You can skip to the end and leave a response. Pinging is currently not allowed.
One Response to "Recipe for Torta Pasqualina – Italian Easter Spinach Pie"
Madetohome.Com Says:
April 3rd, 2020 at 9:30 pm

This magnificent Ligurian dish is a pastry tomb of eggs amid spinach, herbs and ricotta, embodying the spirit of Easter in Italy
Leave a Reply