Recipe for Spaghetti Squash with Pasta
February 23rd, 2009
Spaghetti Squash with Pasta is a great dish to make in the Winter – since it involves baking the squash – it heats up the house. Squash is also inexpensive and easy to find in the North East U.S. in the Winter, making it an ideal cold weather staple.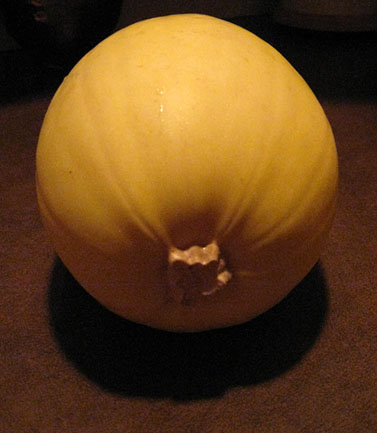 This is an easy dish to make. Here's what you'll need:
1 Spaghetti Squash
1 pound Pasta (we use whole wheat)
Parmesan Cheese to Taste
Butter to Taste (we use about 1-2 Tablespoons)
Salt and Pepper to Taste
Here's what you do:
Preheat oven to 375F.
-Place squash on baking dish and bake for about 45 minutes – turning it every 15 minutes. It's done when a fork easily goes through the skin.
-Meanwhile, boil water and cook the pasta – timing it to be ready around when the squash is done. When the pasta is ready, drain it.
-When the squash is done, cut it in half. Spoon out the seeds and discard.
-Spoon out the good flesh of the squash, breaking it up a little.
-Mix the squash with the pasta, a slab of butter, salt and pepper and parmesan cheese. (Or any sauce that will support pasta.)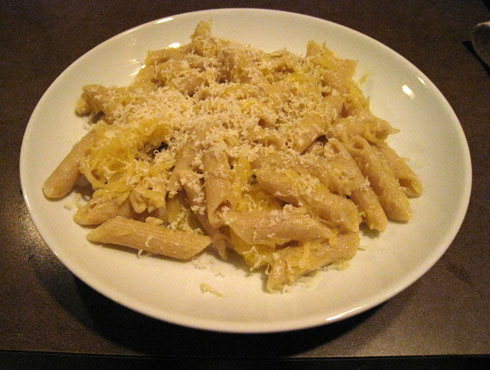 Bon appetit!
Many thanks to Kimberly Marrero for teaching me this recipe. We've made it just about every week this Winter!
Mama Lisa
UPDATE: Corrine Lewack wrote to me about this recipe: "Yum.. I've even used tomato sauce and parmesan cheese on top of the spaghetti squash only.. good for those of us who need carb control!" -Thanks for the tip Corrine! I'm going to try this the next time I make a pot of tomato sauce! -Lisa
PS I usually try to bake another vegetable while I have the oven on (to save on electricity): either another type of squash (like acorn or butternut squash) or eggplant to make Baba Ganouj for another day.
One Response to "Recipe for Spaghetti Squash with Pasta"
Klaudia Reiniger Says:
May 6th, 2010 at 9:18 am

I came upon this first-rate recipe a little while ago, subsequently went yesterday to go shopping for the ingredients and fixed it for the main meal, really delicious.
Leave a Reply