Great Recipe for Leek Tart
December 3rd, 2008
I made a leek tart yesterday. My family all agreed (with the exception of my 7 year old daughter who doesn't like leeks), that it was the best tart we've ever had!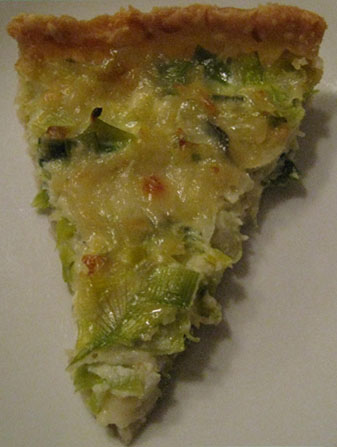 Leek Tart Recipe
3 Leeks
1 Onion
Olive Oil (for sauteing)
3 Eggs
1/2 cup Milk
1 1/2 cup grated Gruyere cheese
Ready-made Pie Crust
Preheat the oven to 400 F.
Clean the leeks and trim off the ends. Slice up into thin pieces. Chop onion into small pieces. Saute leeks and onions in olive oil until soft and golden.
Grease a tart pan with butter. Roll out the ready made crust and fit firmly into the tart pan going up the sides of the pan.
Beat the eggs and mix in the milk. Mix in half the Gruyere and the leek onion mixture. Stir well. Pour onto top of crust. Spread the rest of the Gruyere over the top of the mixture.
Bake for about 30 minutes, until golden brown.
One Response to "Great Recipe for Leek Tart"
oxana Says:
January 8th, 2012 at 11:45 am

Lisa, thank you for the idea and the recipe. Very easy and very tasty.
Leave a Reply