Radial Symmetry Artwork for Kids
December 3rd, 2012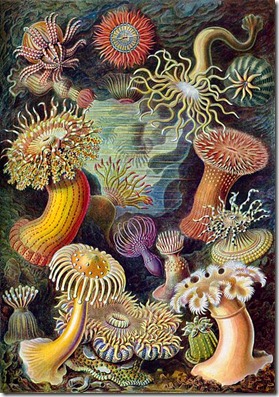 This is cool…
Radial symmetry is where an organism has almost identical looking parts if cut into a pie.  Only the top and bottom look different.  
The sea anemones in this print display radial symmetry.
The video below shows how to create radial symmetry artwork.  It helps teach kids this scientific concept.
Check out how cool it is!
Image at top is a plate from from Ernst Haeckel's Kunstformen der Natur (published between 1899 and 1904).
This article was posted on Monday, December 3rd, 2012 at 11:44 pm and is filed under Arts and Crafts, Kids Drawings, Science, Teaching, YouTube. You can follow any responses to this entry through the RSS 2.0 feed. You can skip to the end and leave a response. Pinging is currently not allowed.
Leave a Reply