Quick Ideas for Themed Parties on Subjects that are Hard to Find
August 10th, 2008
My neighbor Jennifer had a party for her six year old daughter yesterday. The birthday girl wanted a Bambi theme, which presented a problem. Bambi party supplies are hard find since the original movie is so old (1942). But Jennifer's daughter loves Bambi!
Being artistic, Jennifer created signs on foam board of the animals in the movies. She drew the animals and glued them onto the foam board. Then she cut out the figures and attached each one to a stick so she could stand them up in the ground outside. They lasted well throughout the day – so she'll be able to remove the sticks and hang them in her daughter's room as a wall decoration!
Jennifer also used her creativity to make cool t-shirts for party favors. She used iron-on transfers of Bambi and put them on turquoise shirts and surrounded them with pink gems. They look very pretty.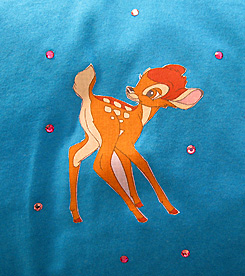 If you're having a themed party with a subject that's out-of-date you'll need to use your imagination a little more, but Jennifer shows that it can be done!
-Mama Lisa
PS Feel free to let us know about any of your party ideas or tips in the comments below.
This article was posted on Sunday, August 10th, 2008 at 11:46 am and is filed under Australia, Birthdays, Canada, Countries & Cultures, England, Holidays Around the World, Kids Parties, Mama Lisa, Parties, United Kingdom, USA. You can follow any responses to this entry through the RSS 2.0 feed. You can skip to the end and leave a response. Pinging is currently not allowed.
One Response to "Quick Ideas for Themed Parties on Subjects that are Hard to Find"
Rita Says:
August 10th, 2008 at 10:08 pm

8/10/08 Does anyone know the lyrics to the spanish version of Sesame Street theme song? We have a bilingual Elmo and we dont understand his spanish. Can somebody please help us? Muchas Gracias!! Rita
Leave a Reply