Princess Party – Wrapping It Up – Part 5
September 8th, 2006
Previously, I wrote about having a quest as part of a kids party. At my daughter's party, we did a crown craft after the quest, which turned out to be a bit of a mistake. If you're going to do a craft, I'd recommend doing it before the quest. After the quest the kids are all excited and not as interested in sitting down to do a craft.
Finally, we sang happy birthday. I had made a castle cake, using a castle Bundt pan I had purchased. It was a quick and easy way to make a castle cake, since time was an issue for me. I added McCormick's Neon Pink food coloring to white cake mix and white icing to make both pink. We decorated the cake with wafers, jelly beans, and other candy. I found tall thin candles which made the castle look more majestic.
I also had purchased stuff for ice cream sundaes in case there was extra time at the end of the party before the parents arrived. We did end up making them.
I think it's a good idea to have extra activities in case your party ends early and the parents aren't there to get their kids.
I have to say I'm very happy to have held a kiddy party in our house for my daughter. I think it gave her a nice opportunity to interact with her friends all at once, at our house, at a special event that was planned just for her.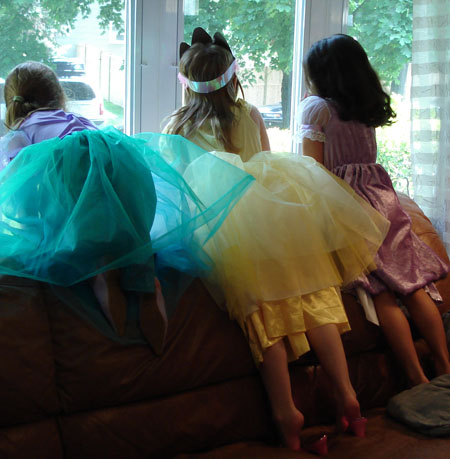 Judging by the smiles on the kids' faces when they left, they all had a good time too!
One Response to "Princess Party – Wrapping It Up – Part 5"
Kara Says:
October 20th, 2006 at 8:41 pm

Such a cute photo of the princesses!
Leave a Reply