Plum Pudding – An Ancient Christmas Carol with Recipes
December 19th, 2009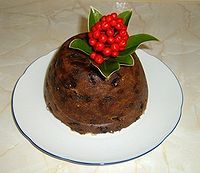 Here's an old carol that sings of the Christmas feast in England that traditionally includes plum pudding…
PLUM PUDDING
Ancient Christmas Carol.

All you who to feasting and mirth are inclined,
Come, here is good news for to pleasure your mind.
Old Christmas is come, for to keep open house:
He scorns to be guilty of starving a mouse.
Then come, boys, and welcome, for diet the chief, –
Plum pudding, goose, capon, minced pies, and roast beef.
The cooks shall be busied, by day and by night,
In roasting and boiling, for taste and delight.
Provision is making for beer, ale, and wine,
For all that are willing or ready to dine.
Meantime goes the caterer to fetch in the chief, –
Plum pudding, goose, capon, minced pies, and roast beef.
Christmas pudding has long been very popular in England. It's even mentioned in Dicken's A Christmas Carol. You can read the passage about the serving of the pudding below and see its importance as an event…
Mrs. Cratchit left the room alone – too nervous to bear witnesses – to take the pudding up and bring it in.

Suppose it should not be done enough! Suppose it should break in turning out! Suppose somebody should have got over the wall of the back-yard, and stolen it, while they were merry with the goose – a supposition at which the two young Cratchits became livid! All sorts of horrors were supposed.

Hallo! A great deal of steam! The pudding was out of the copper. A smell like a washing-day! That was the cloth. A smell like an eating-house and a pastrycook's next door to each other, with a laundress's next door to that! That was the pudding! In half a minute Mrs. Cratchit entered – flushed, but smiling proudly – with the pudding, like a speckled cannon-ball, so hard and firm, blazing in half of half-a-quartern of ignited brandy, and bedight with Christmas holly stuck into the top.

Oh, a wonderful pudding! Bob Cratchit said, and calmly too, that he regarded it as the greatest success achieved by Mrs. Cratchit since their marriage…
The plum pudding was traditionally made by mixing the ingredients and putting them in a bag which was tied tightly and boiled for hours.
Here is an old recipe for plum pudding from 1864 to give you an idea of how it was prepared…
One quarter of a pound of beef suet; take out the strings and skin; chop it to appear like butter; stone one pound of raisins, one pound of currants, well washed, dried, and floured, one pound loaf sugar, rolled and sifted, one pound of flour, eight eggs well beaten; beat all well together for some time, then add by degrees two glasses of brandy, one wine, one rose-water, citron, nutmeg, and cinnamon; beat it all extremely well together, tie it in a floured cloth very tight, let it boil four hours constantly; let your sauce be a quarter pound of butter, beat to a cream, a quarter pound loaf sugar pounded and sifted; beat in the butter with a little wine and sugar and nutmeg.

-A Poetical Cookbook (1864) by Maria J. Moss
This youtube shows how the traditional plum pudding was boiled in the olden days…
Here are more Plum Pudding recipes from The Whitehouse Cookbook (1887) by Mrs. F.L. Gillette. The one for Baked Plum Pudding looks the easiest to make if you want to try one.
ENGLISH PLUM PUDDING. (The Genuine.)

Soak one pound of stale bread in a pint of hot milk and let it stand and cool. When cold, add to it one-half pound of sugar and the yolks of eight eggs beaten to a cream, one pound of raisins, stoned and floured, one pound of Zante currants, washed and floured, a quarter of a pound of citron cut in slips and dredged with flour, one pound of beef suet, chopped fine and salted, one glass of wine, one glass of brandy, one nutmeg and a tablespoonful of mace, cinnamon and cloves mixed; beat the whole well together and, as the last thing, add the whites of the eight eggs, beaten to a stiff froth; pour into a cloth, previously scalded and dredged with flour, tie it firmly, leaving room for the pudding to swell and boil six hours. Serve with wine or brandy sauce.

It is best to prepare the ingredients the day before and cover closely.

CHRISTMAS PLUM PUDDING. (By Measure.)

One cupful of finely-chopped beef suet, two cupfuls of fine bread crumbs, one heaping cupful of sugar, one cupful of seeded raisins, one cupful of well-washed currants, one cupful of chopped blanched almonds, half a cupful of citron, sliced thin, a teaspoonful of salt, one of cloves, two of cinnamon, half a grated nutmeg and four well-beaten eggs. Dissolve a level teaspoonful of soda in a tablespoonful of warm water. Flour the fruit thoroughly from a pint of flour; then mix the remainder as follows: In a large bowl put the well-beaten eggs, sugar, spices and salt in one cupful of milk. Stir in the fruit, chopped nuts, bread crumbs and suet, one after the other, until all are used, putting in the dissolved soda last and adding enough flour to make the fruit stick together, which will take all the pint. Boil or steam four hours. Serve with wine or brandy or any well-flavored sauce.

BAKED PLUM PUDDING.

It will be found best to prepare the ingredients the day before and cover closely. Grate a loaf of stale bread, or enough for a pint of crumbs; boil one quart of milk and turn boiling hot over the grated bread; cover and let steep an hour; in the meantime pick, soak and dry half a pound of currants, half a pound of raisins, a quarter of a pound of citron cut in large slips, one nutmeg, one tablespoonful of mace and cinnamon mixed, one cupful of sugar, with half of a cupful of butter; when the bread is ready mix with it the butter, sugar, spice and citron, adding a glassful of white wine; beat eight eggs very light, and when the mixture is quite cold, stir them gradually in; then add by degrees the raisins and currants dredged with flour; stir the whole very hard; put it into a buttered dish; bake two hours, send to the table warm. Eat with wine sauce, or wine and sugar. Most excellent.

PLUM PUDDING, WITHOUT EGGS.

This delicious, light pudding is made by stirring thoroughly together the following ingredients: One cupful of finely-chopped beef suet, two cupfuls of fine bread crumbs, one cupful of molasses, one of chopped raisins, one of well-washed currants, one spoonful of salt, one teaspoonful each of cloves, cinnamon, allspice and carbonate of soda, one cupful of milk and flour enough to make a stiff batter. Put into a well-greased pudding-mold, or a three-quart pail and cover closely. Set this pail into a larger kettle, close covered, and half full of boiling water, adding boiling water as it boils away. Steam not less than four hours. This pudding is sure to be a success, and is quite rich for one containing neither eggs nor butter. One-half of the above amount is more than eight persons would be able to eat, but it is equally good some days later, steamed again for an hour, if kept closely covered meantime. Serve with wine sauce or common sweet sauce.

*****

SAUCE FOR PLUM PUDDING. (Superior.)

Cream together a cupful of sugar and half a cupful of butter; when light and creamy, add the well-beaten yolks of four eggs. Stir into this one wine-glass of wine or one of brandy, a pinch of salt and one large cupful of hot cream or rich milk. Beat this mixture well; place it in a saucepan over the fire, stir it until it cooks sufficiently to thicken like cream. Be sure and not let it boil. Delicious.

COMMON SWEET SAUCE.

Into a pint of water stir a paste made of a tablespoonful of cornstarch or flour (rubbed smooth with a little cold water); add a cupful of sugar and a tablespoonful of vinegar. Cook well for three minutes. Take from the fire and add a piece of butter as large as a small egg; when cool, flavor with a tablespoonful of vanilla or lemon extract.

If you'd like more modern recipes for Christmas pudding check out this link.
Here you can see how the plum pudding is lit up with brandy…
Kids don't try this at home!
I haven't found the tune that goes with the carol, if anyone can provide it, please let me know.
If you decide to make a plum pudding, please let us know how it turns out, and if you'd like, I'd be happy to post your photos!
Enjoy!
Mama Lisa
Photo Credit for the Christmas Pudding at Top: Musical Linguist – under terms of the GNU Free Documentation License.
This article was posted on Saturday, December 19th, 2009 at 12:04 pm and is filed under Christmas, Christmas Songs, Countries & Cultures, Desserts, England, English, Holiday Songs, Holidays Around the World, Languages, Mama Lisa, Plum Pudding, Plum Pudding, Recipes of the World, United Kingdom, YouTube. You can follow any responses to this entry through the RSS 2.0 feed. You can skip to the end and leave a response. Pinging is currently not allowed.
One Response to "Plum Pudding – An Ancient Christmas Carol with Recipes"
Kenneth K. Ladel Says:
November 22nd, 2018 at 11:58 pm

THANK YOU from the bottom of my heart. You have given me the great gift I could ever ask for: Wonderful plum pudding (Original). My Father used to make it (65+ years ago) but quit when he became disabled. All I can remember is the fruit and the suet. I looked many years ago but never found the right recipe. Now, thanks to you, I have ALL of them. God bless you for all your hard research. Again, Thank you!
Leave a Reply