Planning Your Kid's Birthday Party: Having a Tea Party + "Holding a Princess Party Part 3″
August 21st, 2006
In my last post about holding a kid's party, I talked about the importance of playing up your theme when writing out invitations.
Before you sent out the invitations, you probably decided if you'd be serving either a meal or a snack, depending upon the time of your party. The events of your party can be planned around your meal.
When I planned my daughter's Princess Party, she was still in camp until 1:30 pm. So I made her party from 2 – 4 pm.
I figured that most of the children would already have had at least a light lunch before the party. So I decided to serve snacks. This made the Princess Party a perfect opportunity to hold a tea party with little tea sandwiches on pretty trays. A very princess-like thing to do!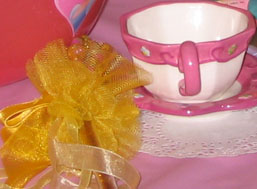 The tea party was the first event. I decorated the table with a princess tablecloth. I used my daughter's "real" china tea set, placing each cup on top of a pretty little doily.
I didn't have enough cups, so the day before the party, I went to a discount store called Marshall's, and purchased some pretty espresso cups that were on sale. They're just about the same size as the cups in a child's tea set. That let me have the right amount of "real" china cups without spending a lot of money.
Since it's summertime, I didn't want to serve hot tea. So I served Snapple peach iced tea and apple juice. Before the party I put them into china tea pots to serve them from. I gave them princess-like names, staying within the theme. The iced tea became Princess Peach Iced Tea and the apple juice became Snow White's Apple Juice. Here's my whole menu…
***
Princess Tea Party Menu
Drinks
Princess Peach Iced Tea
Snow White's Apple Juice
Tea Sandwiches
The Queen's Cucumber and Cream Cheese Sandwiches
Pocahontas Peanut Butter and Jelly Triangles
Royal Peanut Butter Squares
Jasmine's Jelly Rolls
The Frog Prince's Pringles
Ariel's Apple and Cream Cheese on Cinnamon Bread
***
The adults who were helping me with the party mainly ate the cucumber sandwiches. The kids preferred plain slices of cucumbers. They all enjoyed the peanut butter and jelly triangles – I'd highly recommend this as a choice for a children's tea party. It's easy and most kids will eat it. The peanut butter sandwiches and jelly rolls (jelly spread on bread, rolled up and sliced) were put out for the kids who don't like PBJ.
The Apple and Cream Cheese on Cinnamon Bread was truly delicious. (Click on the link for the recipe.)
I served Pringles Potato Chips at my daughter's request. They all went pretty quickly.
When we served the tea and apple juice we would say something like, "Princess Ariel, would you like some Princess Peach Iced Tea or Snow White's Apple Juice?"
The kids loved that.
Once the kids had settled in, and were on their second round of drinks, I let them pour their own tea (under a little guidance). They loved that too!
I'd say the tea party lasted about a half an hour.
It was very cute and a lot of fun for all!
Next Post About Children's Parties: Take the Kids on a Quest!
3 Responses to "Planning Your Kid's Birthday Party: Having a Tea Party + "Holding a Princess Party Part 3″"
Nikki Says:
September 15th, 2007 at 2:08 pm

I loved your ideas. I am planning a party for my daughter and her friends. I would like it to be like a tea party with a princess theme, but more for like pre-teens. She will be turning 12 and I am not sure if this is the way to go.
I have ideas for games that are more age appropriate
and I would like a table spread of wonderful and beautiful snacks.
I was wondering if you had any ideas. She like dainty floral things,
she also likes pastels.
Thank you for sharing a wonderful tea party with viewers, your website has given me the best ideas thus far.

Nikki

Miranda Says:
April 6th, 2010 at 8:52 pm

Thank you so much! Im throwing my 4 year niece a princess tea party and i couldn't decide what kind of menu to choose this was great help. Now i need help on game ideas!

Lisa Says:
April 6th, 2010 at 8:55 pm

I highly recommend a treasure hunt with clues and fun things to do along the way. We did it at two parties and the kids loved it!
Leave a Reply