Parenting the Kid Who Likes to Eat A Lot!
September 5th, 2009
The New York Times has an interesting article about Parenting and Food. It talks about what to do with the child who wants to eat a lot. The dilemma is that telling your kid not to eat too much can cause eating disorders in the future. Yet, if you don't help them control their habits, they might just eat everything they want: including lots of junk food!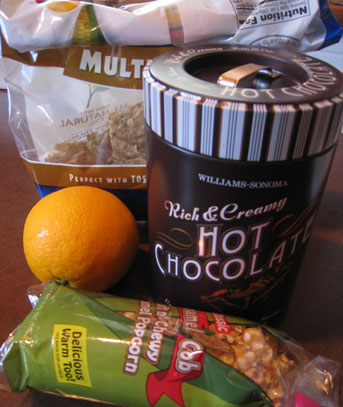 Here are some possible ways to help your child:
1) Eat right and exercise yourself as an example to your child (most of us could improve our habits!)
2) Have lots of fruit in your house as an alternative to junk food and limit the junk food and soda in your house. (The NY Times article points out that your child will just find the junk food elsewhere. But meanwhile, if s/he's grazing on healthy snacks presumably your child would be less hungry for other food.)
3) Eat Family Meals together
4) Less Take-in Food
5) Have them Bring Lunch to School (cafeteria lunches leave much to be desired)
6) Find an alternate activity to snacking – like a hobby
7) Have your child help you plan the meals for the family, thus helping them learn how to think about food in a healthy way.
8) Smaller dishes lead to smaller portions. When my friend visited us from France, she was amazed by the huge sizes of our dishes here in the US. If you have smaller dishes and you fill them up, you feel like you're eating the same amount as a larger dish filled up. Yet your portion is less.
9) Make less carbohydrates. My husband is over 6 feet tall and my 15 year old son is almost 6 feet tall. Sometimes, I find myself making larger and larger amounts of pasta or rice to keep up with them. Lately, I've been trying to make less pasta, so we all eat less carbs, rather than making more and having leftovers.
10) We try to take long walks at parks together as a family.
11) We're considering getting a dog – with the understanding that our kids would have to help walk it. That would be a daily walk for all of us!
Please feel free to let us know any advice you might have, in the comments below, for helping children eat healthy food and eat healthy amounts of food, without causing eating disorders down the road.
5 Responses to "Parenting the Kid Who Likes to Eat A Lot!"
Leave a Reply