Ouzoud Falls, Morocco
March 2nd, 2006
Monique of Mama Lisa's World en français just returned from a trip to Morocco. While there, she visited Ouzoud Falls, which are about a hundred miles northeast of Marrakech.
Here's what she said about it..
We went to Ouzoud Falls to see the waterfalls as they're very famous. In the Summer, people bathe in the pond at the foot of the falls. There are little open air restaurants along the way down to the bottom of the valley. When we went, in February, it had rained a lot and the water was red with mud.
That's when Monique took these magnificent photos…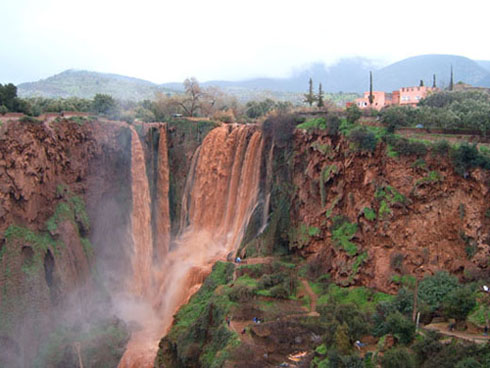 Monique took this one at the foot of the falls…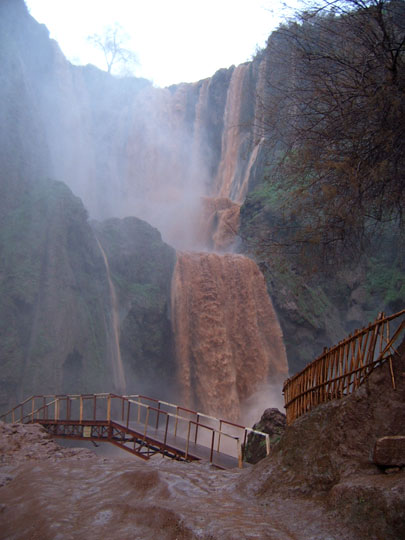 Monique continued…
A young man caught us at the upper end of the pathway so we'd have lunch at his restaurant. The floor of the restaurant is beaten earth, there are only 3 walls and the roof is not a hard roof, it's covered with large plastic sheets over a cane structure.

So we went to have lunch there, we ate the most delicious simple tajine I ever had, the veggies were somewhat like caramelized vegetables. There were nine of us and we each had a Moroccan salad. We shared 6 tajines and 3 couscous, had some fruit and a mint tea plus a couple of bottles of water.
A tagine is like a stew and there are endless varieties. Tagines are cooked in a special earthenware pot called a tagine. It has a conical lid, with just a little hole in it so it captures most of the steam from the food. A typical tagine will usually include meat, vegetables, olives, lemon, garlic, fresh coriander and an array of spices like saffron, cumin, ginger and turmeric. Tagines are usually cooked slowly over a long time without removing the cover of the pot.
Here's a photo of the falls when there hasn't been a lot of rain.
If you're familiar with any children's songs, folk songs or lullabies from Morocco that you'd like to share with us, we'd be very pleased! Please email me or comment below.
Thanks to Monique for sharing these great photos!
-Lisa
Leave a Reply