Our Tree Looks Like The Grinch
December 23rd, 2010
Our tree looks like The Grinch this year…  It's bizarre! 
Here's why… 
We keep our pup Mango in our living room area.  Everything else is gated off. When we leave the house, she tears up anything left within reach.
This is a big problem at Christmastime.  The living room is the only place for us to put the tree.  Forget about ornaments this year or anything else wrapped around it… except for lights.  (She got shocked once from chewing a cord so now she respects them.)
The past couple of days, my daughter was complaining about the lack of ornaments.  I noticed Pottery Barn showing a tree with a Christmas hat on top.  Could that work for us?  It would give the tree some color. 
At the store there are Christmas hats and big red bows.  Perhaps that could work high up on the tree. 
So I got a hat and bow.  Both gave the tree some color.  When the tree lights were turned out at night, I noticed the tree looked a lot like The Grinch!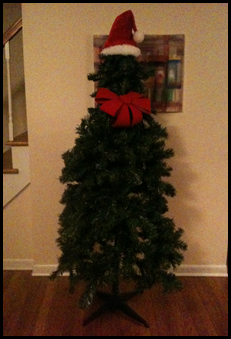 Now the dog's been barking at the tree.  Does she think it's a person?  The fear is she'll knock the whole thing down.  Maybe the new decorations will have to come off.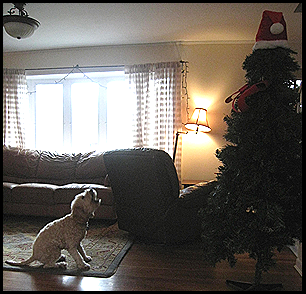 There's no way the gifts can go under the tree either.  We'll have to ask Santa to leave them on the kitchen table or countertop.
It's turning out that our puppy is the one who's The Grinch! 
She's lucky she's so cute and we love her so much.  Truthfully, she's been our gift this whole year.  She has added so much love to our house! 
Sometimes you have to sit back and realize the little things don't have to be perfect.  As long as the overall picture is good.  That's all that counts!
Enjoy the holiday season!
Mama Lisa
This article was posted on Thursday, December 23rd, 2010 at 3:28 pm and is filed under Authors, Books & Stories, Christmas, Countries & Cultures, Customs and Traditions, Dr. Seuss, Holidays Around the World, The Grinch, USA. You can follow any responses to this entry through the RSS 2.0 feed. You can skip to the end and leave a response. Pinging is currently not allowed.
Leave a Reply