Only in Sleep–A Poem by Sara Teasdale
July 3rd, 2012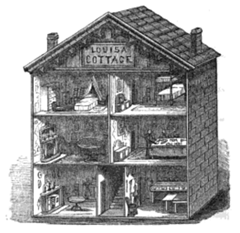 Only in Sleep is a poem by American author Sara Teasdale.  It's about a lady remembering her childhood friends in her dreams.
MP3 Recording of Only in Sleep
Only in Sleep
Only in sleep I see their faces,
Children I played with when I was a child,
Louise comes back with her brown hair braided,
Annie with ringlets warm and wild.
Only in sleep Time is forgotten —
What may have come to them, who can know?
Yet we played last night as long ago,
And the doll-house stood at the turn of the stair.
The years had not sharpened their smooth round faces,
I met their eyes and found them mild —
Do they, too, dream of me, I wonder,
And for them am I too a child?
Read by Diana Majlinger
Image from "The Girl's Own Book" (1856) by Lydia Maria Child
This article was posted on Tuesday, July 3rd, 2012 at 2:45 pm and is filed under Countries & Cultures, English, Languages, MP3's of Poems, Poems about Childhood, Poetry, Poets, Recordings, Recordings of Poems, Sara Teasdale, USA. You can follow any responses to this entry through the RSS 2.0 feed. You can skip to the end and leave a response. Pinging is currently not allowed.
6 Responses to "Only in Sleep–A Poem by Sara Teasdale"
Leave a Reply