Now Reading: Confucius Lives Next Door
July 22nd, 2010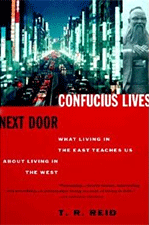 Confucius Lives Next Door is an interesting account of life in Japan by T.R. Reid. Much of the book is spent explaining the role of Confucianism on Asian society.
Confucius said: Isn't it a pleasure when you can make practical use of the things you have studied? Isn't it a pleasure to have an old friend visit from afar? Isn't it the sure sign of a gentleman, that he does not take offense when others fail to recognize his ability.
All Japanese people know these lines. They're the opening of Analects by Confucius. They're taught to children at school and quoted throughout Japan.
This book will give you a greater understanding, not only of Confucianism, but also of its impact on Japan.
A must read for anyone interested in learning more about Japanese life and culture.
Note: I want to make clear that I don't agree with all of Reid's criticisms of the West nor with his final conclusions. But I do think it paints an interesting picture of the East.
This article was posted on Thursday, July 22nd, 2010 at 10:31 am and is filed under Books & Stories, Confucius, Confucius Lives Next Door, Countries & Cultures, English, Japan, Japanese, Languages, Mama Lisa, People. You can follow any responses to this entry through the RSS 2.0 feed. You can skip to the end and leave a response. Pinging is currently not allowed.
Leave a Reply