New Year's Traditions in Japan: Ringing Temple Bells and Watching the Sunrise
January 1st, 2015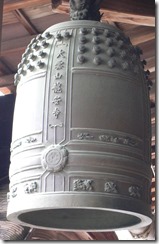 People in Japan ring temple bells for the New Year and they watch the sunrise.  Sadao Mazuka wrote to me about these traditions:
On New Year's Eve, many Japanese people go to their local temple and wait for their turn to ring the big bell (one time per person). It is called 除夜の鐘, Joyanokane, "The Tolling Bell Ceremony on New Year's Eve". And the ringing is expected 108 times as this number corresponds to the number of evil desires that we suffer from on earth. Ringing the bell 108 times reminds us of our evil passions, and purifies us for the upcoming year.  When we lived in Hamamatsu, I went to a local temple to wait my turn and rang one time as strong as I could. That local temple was not a central part of the city, so we could hear the bell ringing from remote temples about 3 kilometers away.
Here's a Youtube from 善光寺; Zenkoji temple in Nagano Prefecture of Joyanokane…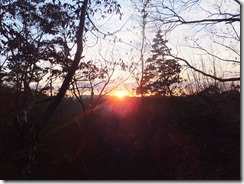 At dawn on New Year's day, many people go and see the rising sun, we say "初日の出" (the first rising sun) to pray to the Sun God for a year of happiness. This was also when I lived in Hamamatsu, I went to a local hill. Many people were waiting for the Sunrise. And when the sun appeared on the horizon, people cried out excitedly and prayed with their palms together. And some groups began reciting Chinese poems together.
"Haruno Umi (春の海); The Spring Sea" is typical music for the New Year in Japan.  春の海; Means Music; Playing koto (Japanese zither) and shakuhachi (a vertical bamboo flute).  Michio Miyagi (1894-1956) is a famous blind music composer and player who wrote the music. I hope you enjoy listening to it…
I hope you and your family have a Happy New Year in 2015 with good health.
Sincerely yours,
Sadao Mazuka
Thanks so much Sadao for sharing your New Year traditions with us.  Happy New Year to you and your family! -Mama Lisa
This article was posted on Thursday, January 1st, 2015 at 10:07 pm and is filed under Countries & Cultures, Folk Songs, Holiday Songs, Holidays Around the World, Japan, Japanese, Languages, New Year's Eve, New Years, New Years Songs. You can follow any responses to this entry through the RSS 2.0 feed. You can skip to the end and leave a response. Pinging is currently not allowed.
Leave a Reply